Online-ordained ministers of the ULC are helping to make gay marriage a reality
While straight men and women from across the country have become lawfully married thanks to the services of Universal Life Church Ministries ministers for years, few gay Americans have had the privilege thanks to our nation's conservative gay marriage laws.
This changed on Sunday, July 24.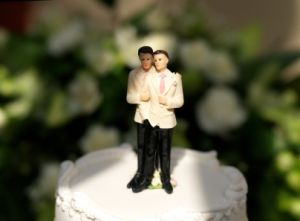 Thanks to the New York State Senate decision to legalize gay marriage in that state, hundreds of new and veteran ULC Ministries ministers are lining up facilitate the thousands of gay weddings which are sure to occur in the Empire State in the coming months. So while ordained ministers, preachers, pastors and priests of conventional religions shy from the idea of performing gay wedding ceremonies, the ULC Ministries's fast, simple and free online ordination process has allowed it to step in and both meet the demand for wedding officiants and make the long sought after weddings of gay couples meaningful experiences for all the parties involved.
Here are the stories of some of the many ULC Ministries ministers who plan on performing gay wedding ceremonies in New York.
Brooklyn, NY resident John DeLamar became legally ordained online at the beginning of July to officiate the wedding ceremony of two of his closest friends. DeLamar, who admits to have never wanted to become a minister before the New York State Senate decision, jumped at the opportunity to legally perform a wedding ceremony for these friends.
"When gay marriage passed, I thought it would be great [to get ordained]," DeLamar said. "When my friends asked me to marry them, I was really moved. We've been fighting for gay marriage together - we marched on [the national capital], we've been campaigning and pamphleting to get it approved. Marrying them is a great responsibility."
While many ULC ministers are getting ordained specifically to officiate the wedding ceremonies of close gay friends or family members, others are becoming ordained online just to make sure there will be enough wedding officiants to go around. Nancy McAlley, a registered nurse from Brewster, N.Y., is one such minister.
"When the law passed, I felt there were so many people out there wanting to get married that I would sign up and be an option for them," McAlley said.
McAlley choose to not wait for her imminent appointment as an interfaith minister to become ordained through the ULC in order to help same-sex couples.
"I think gay couples deserve the same rights as straight couples," McAlley said. "I'm open to doing the ceremonies anywhere."
Another segment of ministers, like David Culver, became ordained online for the sake of marriage equality.
"I'm afraid there are going to be people in the LGBT community that are going to be turned away for being gay and lesbian," Culver said. "I don't want that to happen."
Since the gay marriage bill passed on June 24, the ULC Ministries has witnessed a significant increase in the demand for its New York City Wedding Officiant Package, which contains all of the credentials and documentation mandated by NYC to file for a marriage license there. The ULC Ministries has also launched a popular new ministerial product, the New York Same-Sex Marriage Officiant Package, to cater to the needs of the many gay couples who will soon be married by its ministers.
The Universal Life Church Ministries will supply eight of the twelve wedding officiants who will perform at the Pop Up Chapel gay marriage event on July 30 in NYC and will send three staff members to represent the world's largest online ministry there.
Thanks to the New York Daily News for writing an article about our ministers and providing the above stories for this blog post!