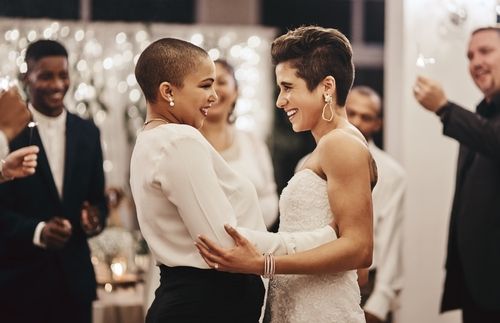 Getting ready to marry the love of your life brings many joys. Planning a wedding can also trigger a lot of painful reminders that society does not always have you, your beloved and your friends in mind when it decides what's appropriate for important ceremonies, though. The good news is that you don't have to pay attention to any traditions that don't fit what you want your special day to be.
The Engagement
There are many ways to propose to another person. The way that is most meaningful in the context of your unique relationship is the best way for you (or your significant other) to do it. If you like grand, public gestures, you may decide to serenade him or her or hire someone else to do so on your behalf, and don't be afraid to incorporate friends into the process. If you know your partner is a more private person, plan a special date for just the two of you to pop the question.
The parties that happen before the big day are traditionally separated by gender, but that doesn't make sense for many couples. You can invite everyone to your wedding showers. On the night typically set aside for the bachelorette and bachelor parties, you can plan separate outings if you have different friend groups, or you can decide to buck tradition altogether and go out in one big group.
The Ceremony
When it comes to planning the actual ceremony, you have a lot of choices. There's no need to get bogged down in what other people tell you you should want. Everything from deciding who is going to officiate to choosing the rituals that are meaningful for you can be customized to fit your relationship.
Wedding Party
One of the first steps is choosing someone to lead the ceremony. You may already have a minister or other officiant in mind who is ordained and ready to go. If you would rather have a friend or family member preside over the service, though, online ordination is a quick and easy process.
Many weddings have a bridesmaid and best man, but if your best mates don't fit into those narrow categories, you don't have to force it. You can call them the primary attendants or best mates, or you can forgo labels altogether. The main goal of choosing a wedding party is making sure that someone is taking care of a few key functions:
Organizing pre-wedding events
Ensuring everything runs according to the schedule
Showing guests to their seats
Assisting each partner with the preparation
Taking care of the rings
Wedding Rituals
While many wedding rituals were created with straight, cisgender couples in mind, there's no reason you can't make it your own. For example, if you want a unity ceremony with different colors of sand that you mix together or a candle that you light from your separate, smaller flames, you can easily incorporate this practice into any kind of service. You can also choose handfasting, ring warming or another way to visually represent your new union.
Friends who know you well can help make your day beautiful. Ask artist friends to share a song or poem they have created. Another benefit of having a friend officiate is that the stories told are more likely to be heartfelt and personal. Finally, you can trust friends to pronounce your union as a married couple using the exact language you prefer rather than the typical "husband and wife" announcement.
The Happily Ever After
Your wedding day belongs to you, and you and your partner deserve for it to be exactly what you want it to be. Take the ideas that bring you joy, and leave all the rest behind.