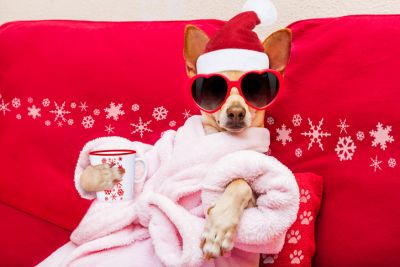 Whether you celebrate Hanukkah, Christmas, Kwanza or Saturnalia, November marks the start of a holiday season that can be extremely busy with family, friends, parties and more. You're not only pressured to spend extra money throughout the holiday season, there are dozens of extra activities that can make you feel stressed. If thinking about this makes you feel tired, take some time before everything starts to decide how you will practice self-care and remember the reason for the season.
Find a Balance
Decide what is most important to you through the holidays. Put those things first on your calendar. Remember that your time is limited. No matter how much you want to, it might be impossible to attend every activity on your agenda. By establishing the important ones first, you can have a better balance between work, parties, chores, family time and self-care. If you have a partner, you may have to manage your schedule together. Starting early gives you a chance to talk about the options and work out solutions for where you're going to spend each holiday.
Setting Boundaries
Your niece wants you to attend her dance recital. Your dad wants to show you off at his company party. Mom expects you to be at her house bright and early Christmas morning for a family breakfast. And don't forget your own work party, faith celebrations and donations for Toys for Tots. It's enough to make you feel weary and it isn't even December.
This year, before saying yes (or no), consider each activity thoughtfully. Is this something you truly want to do or are you saying yes because you don't want to disappoint someone? Do what's best for you, not your parents, your family, your boss or the community. When you do say that you can't attend, don't give a lot of excuses. Simply say, "I would love to be there, but my schedule won't allow it." If the other person gets upset when you say no, that's their problem.
Face Your Expectations
It's estimated that about 25 percent of Americans feel sad, lonely or depressed through the holidays, but when you look at movies, television and magazines, you would never know that was the case. It's just expected that you should be happy and cheerful this season. You have your own expectations of your family getting along. Your mom may want the food to be perfect. These ideas are great, but may be lofty aspirations. Instead of looking for perfection, let yourself off the hook if the pumpkin pie burns or the turkey is dry. Focus on enjoying your family's company.
Slow Down
This year, make a point to really live in the moment. When you're at your niece's dance recital, don't think about anything else. Enjoy what's happening on stage. Don't think of decorating the house as a chore, but a way to welcome visitors and liven up your home. Approach activities in a different way, not as something you have to do, but as ways to make memories and focus on the season. If you are grieving or don't want to deal with the holidays, that's okay too. Acknowledge your emotions instead of pushing them down.
When daily stress hits, take a few minutes for self-meditation. Slow down your breathing and relax. Do what you can to take control of your schedule. Try to stop worrying about what you cannot control. It may be hard the first few times, but keep practicing. Carve out time for yourself this holiday to do what you need to stay healthy and well. Self-care doesn't have to be an afterthought this season, just remember to honor your own needs.