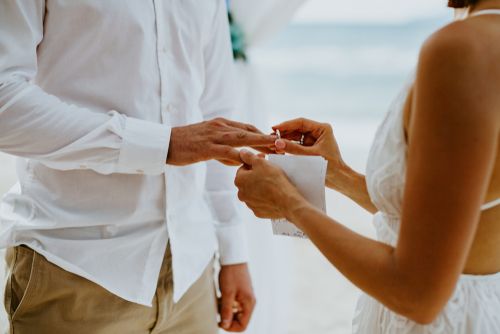 The exchange of vows is the key centerpiece of a wedding ceremony. They're the couple's promises to love, honor, and cherish each other. Human language and thought are incredibly rich, allowing us to express these promises in so many ways. As an officiant, you may be asked for guidance on selecting or creating wording that reflects the couple's personalities, sentiments, and spirit. In this short guide, you'll learn more about both pre-written and custom-crafted wedding vow scripts.
Vows' Place in the Wedding Script
Most wedding scripts begin with the officiant's welcome and opening remarks. The middle section includes two vital parts of the ceremony — the declaration of intent and the exchange of vows. This is followed by the pronouncement, in which the minister declares that the couple is officially married. The ceremony finishes with the officiant's closing remarks.
In the declaration of intent, the officiant asks the couple if they're entering the union of their free will. This section typically includes some variant of the familiar "do you take this person as your lawfully wedded spouse" wording. The ring and vow exchange ceremony can either be incorporated into the declaration or immediately follow it. You can see the typical ceremony order by looking at a basic wedding script on the Universal Life Church's website.
Custom-Penned Vs. Pre-Written Vows
When you're asked to officiate a wedding, your couple may either choose a wedding ceremony script with own vows or opt for pre-written ones. Both are equally valid and can help create a meaningful event. Standard vows can be incorporated with just a bit of customization. This all-inclusive wedding script from the ULC is one example. Couples can also look to a wide range of sources for inspiration if they're penning their own vows. This guide to vow writing from Get Ordained may also be useful.
Gender-Neutral Wedding Vows
Marriage traditions can be heavily gendered, so wedding vows end up with gender-specific language. As social realities change, inclusivity is slowly becoming the norm. More LGBTQIA couples are tying the knot, including people who don't identify as male or female.
Your couple may want the flexibility to include gender neutral wedding vows in their ceremony. Sometimes, this can easily be done with word and pronoun substitutions — "spouse" instead of "groom" or "bride," for example. This modern ceremony script shows just one example of how gender-neutral wedding vows can look. Be mindful that some people use the singular "they" pronoun or adopt neopronouns such as "ze" or "hir." You may find this neopronouns guide at Carrd helpful.
Some pre-written vows, however, still include a gendered focus in their language that can't be modified with simple substitutions. Also, every couple has a unique relationship and history. These are just a couple of reasons why some craft their own or customize with the aid of templates.
Vow Renewal Ceremonies
Vow renewals include nearly all the components of a regular ceremony script. But officiants don't have to pronounce anything since these couples are already married. You can present the couple with a vow renewal certificate to commemorate this happy occasion.
If you're stuck for specifics when penning the ceremony script, try out the ULC's wedding script generator. After entering the couple's details, just select "renewal" for the ceremony type. You can also select which elements to include by ticking the checkmark boxes and radio buttons in the "Components" and "Add-Ons" sections.
The Wedding Script as a Collaborative Effort
Couples look to their spiritual beliefs, cultural traditions, and personal preferences when planning their wedding ceremonies. As an officiant, you'll work with your couple to shape their special day. They may want a wedding ceremony script with personal vows they've written. Alternatively, they may find meaning in traditional or pre-written vows. Either way, collaboration is key to craft a celebration that they'll remember fondly for years to come.