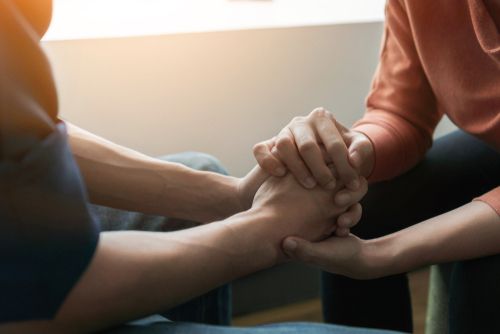 May is Mental Health Month. You may not be aware of how prevalent issues of depression, anxiety or other types of mental illness are in your faith community. With one out of every five adults and one out of every six youth experiencing some type of mental illness every year, however, chances are that you or someone you love could benefit from seeking help or support.
Traditionally, many churches have not been particularly strong in their support for mental health awareness and treatment. People who have a hard time are often advised to pray more or seek some spiritual consolation for their troubles. If you're only feeling a small amount of fleeting sadness, this advice can be helpful, but if there are larger issues at the root of your problem, prayer alone is unlikely to be a sufficient solution. Your church can offer more comprehensive support through a mental health ministry.
Resource Connection
A mental health ministry typically starts with education. Many people of faith carry a stigma against mental illness, whether they realize it or not. Just starting the conversation is an important first step to overcoming the shame that some may be feeling about needing help.
Coordinating events with mental health professionals in your area is a great way to start the conversation. If you have space for an information booth in one of your common areas, stock it with local resources where people can connect with counselors or therapists. You can share information about classes and other types of support. Some professionals may be willing to give presentations to the congregation to help destigmatize mental illness for the faith community as a whole.
Peer Support Groups
Sometimes just talking through your problems and discovering that you are not alone can ease some of the pain of mental illness. A peer-led support group offers many benefits to participants:
Safe space to share confidentially
Judgement-free environment
Opportunity to give support to others
Alleviation of guilt or shame
Social connection
While it's likely beneficial to arrange casual get-togethers with people who want support, if you want a more official long-term peer support group, leader training is advisable. Check out the mental health professional networks in your area to see if any of them offer such training. They can help you learn to navigate difficult conversations and structure your group in such a way that you set clear boundaries and that everyone who needs to share gets a chance to do so.
Financial Support
Sometimes even when people realize they need help, they struggle with finding the means to get it. While it's a good idea to connect people with local mental health professionals, it doesn't do a lot of good to refer members to resources that they can't afford. When you are planning the structure of your ministry, it's important to also make plans for how you are going to assist people with actually getting the help that they need.
Your mental health ministry itself may not cost a lot of money to run, but like other forms of health care, therapy can be expensive. You may need to host frequent fundraisers to build up a fund for counseling scholarships. Your denomination may also offer grants or other types of assistance for mental health initiatives. The more comprehensive the help you can offer, the more successful your ministry is likely to be.
A mental health ministry can be a lot of work, but it's also quite rewarding. So many people experience some type of mental illness at some point in their lives. It's highly probable that there are a number of people in your congregation who would benefit from such a ministry.