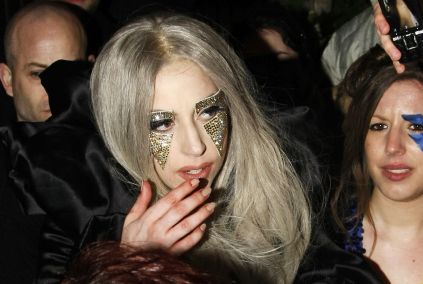 News broke on December 12 that Lady Gaga, pop music sensation and "Mother Monster" to millions of "monster" fans, is looking to become legally ordained online in order to perform a gay wedding ceremony for her friend and yoga instructor. The Universal Life Church Ministries was excited to hear this news as a gay marriage ceremony performed by such a high-profile celebrity will inevitably help the cause of marriage equality in America, a cause the ULC thoroughly supports. Brother Martin, the presiding chaplain of the ULC Ministries, quickly drafted and sent her a letter imploring her to become ordained. This letter is printed in full below.
Dear Ms. Germanotta,
The Universal Life Church Ministries has learned that you plan on performing the wedding ceremony of your yoga instructor, and we hope to provide the ordination that will allow you to legally do so.
The ULC Ministries staff admires your outspoken support of marriage equality, and we recognize that your audience of millions gives you tremendous influence over public opinion on the subject.Your music is your pulpit and through it you have demonstrated your ability to negate the hate-filled, bigoted messages of those who believe gay men and women are second-class citizens. Officiating Ms. Donegan's wedding ceremony will be a meaningful experience for you and the happy couple and will also be a great service to the pursuit of marriage equality throughout America. We want to offer you our services in exchange for your support of marriage equality. We welcome you to become legally ordained online through us. We are ready to ship the necessary paperwork, credentials, and any ministerial apparel you wish to wear or have your designers make adjustments at no cost. The ULC Ministries has always supported gay marriage. I sent a letter to President Obama in support of gay marriage, and was delighted by the way in which his response mirrored my sentiments. We traveled to New York City this summer to take part in the Pop Up Chapel, where eight of our ministers performed 16 gay wedding ceremonies in Central Park. The ULC Ministries has also donated thousands of dollars to gay causes; including Seattle's Lambert House, a shelter for gay, bisexual, and questioning youth, and to the Space Needle Corporation to raise the GLBT pride flag during Seattle's Pride Week. We thank you for your humanist approach to teaching equality to everybody. We teach that "we are all children of the same universe" and your actions have given strength and meaning to that mantra. Blessings, G. Martin Freeman If you would like to learn more about our organization, you can see what the Washington Post, New York Times and the Wall Street Journal have written about us and the services we provide by clicking here, here and here.