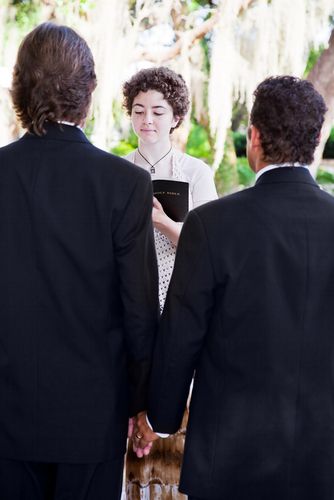 Weddings have changed quite a bit within the last few decades. Marriage equality has been the law of the land, and the COVID-19 pandemic has forced couples to get creative when tying the knot. Wedding officiants provide valuable assistance to these couples every day. Whether you're seeking online ordination for weddings or you want to become a minister for other reasons, you can achieve this goal with help from the Universal Life Church. In this brief guide, you'll learn more about how to get ordained as a minister online plus how to receive your online ordination certificate.
Why People Choose Online Ordination
If you're like many people who want to get ordained online, you're probably most interested in performing marriage ceremonies. This itself is a noble goal. Getting ordained allows you to offer engaged couples a vital service, especially if they live in places where it's difficult to find an officiant:
a small town or rural region
an area that lacks religious diversity
a county without many civil officiants
Even if you're in a larger city or metro area, becoming an officiant can be helpful in other ways. Finding an LGBTQIA-affirming minister may be difficult in some jurisdictions, for instance. You can also fulfill your personal and spiritual goals through online ordination for marriage. Many ULC ministers focus only on performing weddings. This can become a full-time ministry in and of itself, considering the assistance couples that often need in the months before their ceremonies.
How To Get Ordained Through the ULC
Online marriage ordination is a simple and convenient process. The Universal Life Church offers an online ordination request form that takes only a few minutes to complete. Please note, however, that you will need to use your correct legal name and accurate other information on the registration form. Should you need to update your online wedding ordination details, you can contact the ULC.
Once you've completed this form, you will receive a confirmation email within a few minutes. This message lets you know that your ordination is complete.
Proving Your Credentials
After your ordination is confirmed, you may want to obtain official proof that you're a ULC-ordained officiant. You will likely need this if you plan on performing weddings. You can obtain these through the ministry supply store by ordering one of the wedding packages.
The ULC's wedding packages include your ordination certificate and a wallet card plus a clergy badge. Depending on where the ceremony will take place, you may also need a letter of good standing. Some jurisdictions, including New York City, also request the church's articles of incorporation. No matter where you plan to solemnize marriages, you should order your package well in advance.
ULC Ministry Training Resources
The Universal Life Church provides a wide range of training materials online. Through the ministry training center, you can access some valuable guides that can help you start your wedding ministry:
Performing a wedding
Filling out a marriage license
Ensuring a wedding is legal
Marriage counseling guide
State marriage laws information
The training center has other resources you may find useful. If you're collaborating with a couple to write their ceremony script, you'll want to review some ceremony script examples or the wedding script generator for ideas. The minister supply store also has additional wedding supplies and training resources.
A Worthy Calling
Online ordination through the Universal Life Church can serve many purposes. For some, it's the start of a fulfilling ministry. Others find that it enables them to help out friends who want an officiant but can't find one who best meets their needs. With a simple ordination process and accessible training resources, it's easy to begin your path to ministry today.