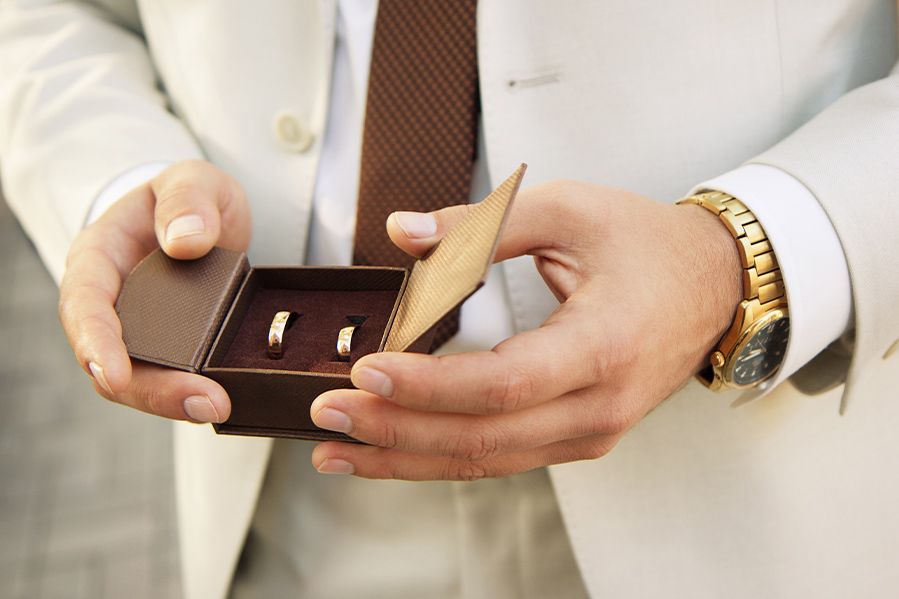 One of the most popular wedding trends in recent years is the ring warming ceremony.
Although this trend has its origins in Ireland, this beautiful ceremony is now practiced at weddings around the world, including the United States!
If you aren't familiar with it, ring warming is a very special ceremony where the wedding rings are passed around to guests, who clasp their hands over the rings, "warming" it with their prayers, well-wishes, or good vibes. 
Here's what you need to know about ring warming ceremonies, and why you may want to include one in your wedding.
Why Include a Ring Warming Ceremony?
There are many reasons couples might consider incorporating a ring warming ceremony in their wedding ceremony. The first of which is it's an easy and low pressure way to include very special wedding guests in your ceremony, and make them feel involved and special.
Parents, grandparents, children, close friends – it's a great way to incorporate those very special front row guests into your nuptials in a quick yet unforgettable way.
There's a certain sentimentality to the ceremony that makes it popular as well. Couples can carry the prayers and positive thoughts imbued into the wedding rings by their guests into their marriage, lending a spiritual significance to the rings beyond symbols of their love. 
ULC minister Lhegend Carter recently posted a touching example of what a ring warming ceremony adds to a wedding:
Ring warming ceremonies are also popular because they can be given whatever spiritual or emotional value the couple assigns them.
Religious couples might ask guests to pray over their rings, for example, and spiritual or nonreligious guests might ask for positive thoughts and good vibes. Ring warming ceremonies can add an extra touch of emotional significance to the wedding, whatever the couple's faith or spirituality.
How to Include a Ring Warming Ceremony in Your Wedding
There are several different ways you can include a ring warming ceremony in your wedding, and there's no "one size fits all" approach.
The most common way to incorporate a ring warming ceremony is to pass the rings around to a select few special guests – typically 5-6 family members in the front row – before the rings are exchanged.
Guests can choose to pray over the rings, or just send positive thoughts and well-wishes into the rings for a brief moment, before passing them on to the next person.
Typically, the officiant announces the ring warming, and they or a member of the wedding party pass the rings around to the selected guests. This should generally be quick, taking no more than a few minutes of time, and the person designated to pass the rings around should be a trusted friend or family member of the couple. Some couples might also choose to assign this role to their children or a beloved niece or nephew.
There are other ways couples can incorporate a ring warming ceremony, too.
For example, it doesn't even necessarily have to take place at the altar. The couple might invite select guests to surround them in a circle and pass the rings around before the ceremony begins. Sometimes, the ring warming ceremony might not even take place at the wedding! The rings might be brought to guests who won't be able to attend, and their prayers or thoughts imbued into the ring days or weeks before the wedding date.
This is an open-ended ceremony, and couples can alter it to fit their needs as they see fit.
What to Say During a Ring Warming Ceremony
The wedding officiant is typically the person tasked with guiding the ring warming during the wedding ceremony. Prospective officiants may be wondering what to say during a ring warming ceremony, or if there is a ring warming script. The good news is that it couldn't be simpler!
Typically, the officiant will explain what a ring warming ceremony is, as well as the symbolism behind it, for any guests who might be unaware. Officiants should make sure to stress the spiritual or emotional significance those asked to warm the rings have to the couple. Finally, they'll prompt the ring bearer to hand the rings to audience members for the ring warming. That's it! 
There's no question why ring warming ceremonies are growing in popularity; they're a quick, easy, but spiritually and emotionally rewarding way to incorporate precious loved ones into the wedding with little added pressure.