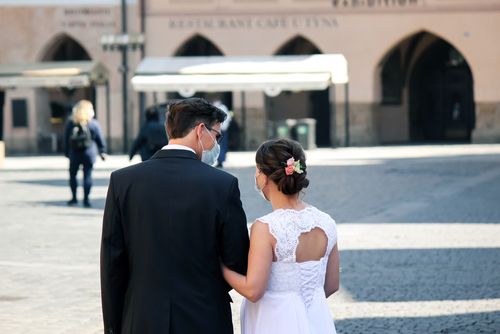 The global pandemic has affected people all around the world and from all walks of life. While it is a problem that we are all facing together, that doesn't make it any less frustrating for couples whose wedding plans have been disrupted by the virus. These engaged individuals are being forced to make the tough call of how to handle the situation. There are a lot of different strategies being used to adjust wedding plans, and whether you are engaged yourself or just a curious onlooker, they can be inspiring and uplifting to see.
1. Rescheduling and Flexibility
Couples who are set on their dream wedding with a large gathering of people are having to play the situation largely by ear. Putting weddings on hold or using tentative dates can be a stressor, but for many of these individuals, it is the only way to get the experience they want. Despite all the uncertainty, many can feel some sense of relief in the fact that other people understand their situation. Friends and family are more often than not willing to be flexible on the date as well. Many couples have found that not only have invitees shown a lot of compassion toward their circumstances, but wedding suppliers, caterers, and venues have also been open and understanding about the need to change the date.
2. Alternative Wedding Styles 
Every situation is unique, but after all of the excitement and work that has gone into planning a wedding, many couples simply don't want to wait any longer. There are lots of alternative ways to get hitched, and they can be beautiful and classy. One solution is a small elopement rather than a large wedding ceremony. It can be set up to be cozy and romantic. In many cases, the newlyweds can make a great in-depth wedding film to go along with the ceremony so that it can still be shared. In order to help loved ones not feel left out, some may even choose to stream the event live.
Streaming and making videos is a great solution to the problems caused by mass gatherings, but some nearlyweds have taken it a step further and have gotten more creative with their weddings. One couple in Texas went so far as to plan a drive-in wedding at a drive-in movie theater, complete with a showing of a movie they picked at the end. Even those who have had to reschedule often hold some kind of small party in their home honoring the wedding day that would have been. Friends and family can be included via video chats in these more-casual meetups, and while they can be bittersweet, it is still a beautiful gesture.
3. Using the Situation to Grow Closer
For those who have put a lot into planning the perfect day, the virus has the potential to be devastating. It is inspiring to see how many couples have turned the experience around and used it as an opportunity to grow closer. Being responsible and putting a positive twist on the situation is an amazing way to show strength and demonstrate recognition for the bigger issue, which is affecting far more people than just engaged couples. The prospect of a wedding post-COVID-19 creates a sense of hope for better times by giving families something big to look forward to at the end of quarantine. On the other hand, the creative twists on traditional weddings can truly make them an event to remember.
The novel coronavirus has certainly upended many wedding plans, but nearlyweds are approaching the situation with ingenuity. Whichever route they choose to take, these brave couples are keeping their loved ones safe, which is something they should all be applauded for.