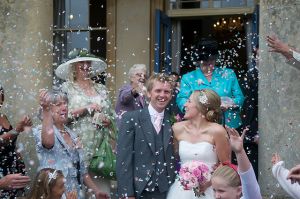 Around the country, summer is coming to an end as temperatures drop and the foliage begins to turn. There may, however, be couples out there trying to put together the perfect wedding ceremony before the rain begins to fall. As their minister, you might consider passing on the following information to your clients or providing gentle reminders as you see fit.
As a future bride, one of the most cherished moments in your client's life has happened; her partner has asked her the four words she has wanted to hear her whole life: "Will you marry me?" It is a happy moment that neither will ever forget, but now comes the heavy lifting. She and her fiancée must now plan the wedding, and if they are not ready, it could leave everyone scrambling at the last minute. Here is a list of a few things the couple may have forgotten, or not even given a thought. Think of them as "the little things".
The Perfect Location In More Ways Than Just One The beach at sunset, a lakeside pier, the 100 year old church in town; if your clients are like the majority of soon-to-be couples, they probably have an idea of where they want to tie the knot, or at least have a "short list". However, the proper venue should come down to more than just offering a beautiful view or backdrop. For example, the couple likely has a long list of friends and family they'd like to invite. Keep that number in mind for picking a venue; places often have set capacity limits for safety reasons. Having a Plan B is always a great plan. The last thing the couple wants to have to do is seat Grandma in the parking lot in order to avoid violating fire codes.
Event Insurance Event what? While this is probably the furthest thing from your couple's minds (whose wedding doesn't go perfectly, right?) you want to make sure that they anticipate every possibility (good or bad). You may not have even known it was possible to get insurance for a wedding, but believe us, this is not something newlyweds want to discover after a disaster occurs. Your clients wouldn't think of purchasing a car or house without insurance, and they shouldn't make such an enormous investment of time, effort and money into a wedding ceremony without considering this extra "peace of mind" protection. Regardless of how many people you plan on having in attendance. It is more than worth the extra expense.
Pre-Marriage Counseling The term "marriage counseling" can carry a negative connotation, but it really doesn't have to at all. One Virginia minister recently stressed to us the importance of pre-wedding counseling, in that it can help a couple not only learn more of each other's quirks, but also grow even closer together, and (respectfully) clear the air regarding any past or potential issues they may have had. A wedding is truly a process that should be enjoyed and experienced from start to finish and pre-wedding counseling is just another valuable step along the way.
The "Odd Man Out" The invitations have been sent, the wedding party is set, and the minister is in place to officiate the ceremony. However, it's not uncommon at all for a bride and groom to discover a friend or family member that hasn't been involved to the extent they should have been, only all of the important spots have already been filled. He or she may not fit as a bridesmaid or groomsman, but the couple would still want to place him or her somewhere. Now what? The betrothed should consider using this person's services in another capacity, such as ushering, decorations coordinator, gift overseer; there is always an important job just waiting for someone to tackle it. Giving someone a role is a great way to show appreciation, even if it is not as part of the primary wedding party.
So there you have it, a small list of things to keep in mind while planning the big wedding. The wedding planning process can be overwhelming, so be sure the couple is enjoying the journey to avoid any "Bridezilla" moments.