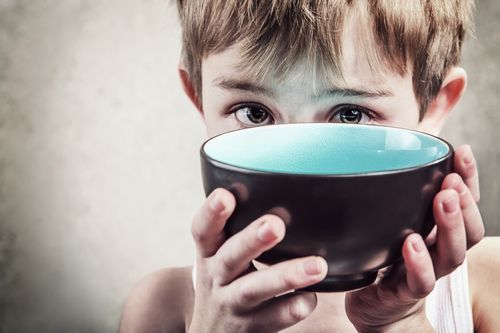 School is the place where many children discover new interests and start dreaming about what they want to be when they grow up. They meet new friends and develop social skills beyond what they are able to practice at home. They may have disappointments, but hopefully those down times are overshadowed by the benefits of being in a nurturing learning environment.
For some students, school plays another important role. In the United States, almost a third of low-income households are food insecure. School lunch programs ensure that children in these households get at least one good meal a day during the week. During summertime, though, they may not know where their next meal is coming from. There are many things that faith communities can do to help.
Recognizing a Problem
There is often difficulty in identifying students who are food insecure. It's not typically something that they talk about. They may not even know they can ask for help. There are several signs, however, that could indicate a child is not getting enough to eat at home:
Eating quickly
Hoarding food
Sneaking away from the group to eat alone
Getting upset when plates are cleared
Expressing aversion to sharing food
Choosing only familiar foods
One behavior from this list is probably not enough to presume scarcity at home, but a pattern of multiple behaviors tells a different story. Partnering with specific schools to gauge the extent of the need is paramount to your ministry's success. School officials, particularly the teachers who work directly with the students, are likely able to give you the information you need to plan without violating the privacy of the families.
Donating To Reliable Programs
Just as there are free or reduced-cost lunch programs within school systems themselves, the USDA also offers the Summer Food Service Program for students in low-income households. While the SFSP is able to serve millions of children every summer, it's not always enough. The program's reach typically falls short of the needs of children across the nation.
Feeding America is a national organization that partners with various food sources such as grocery stores, restaurants, farmers and manufacturers to reduce food waste by getting excess supplies to those in need. It acts as a link between these sources and food banks that are connected with distribution outlets and sponsors a summer meal program specifically for students. While collecting food for the local food bank is helpful, a donation to Feeding America can make your dollar go even further. Your local food bank may also get significant discounts on food from other suppliers. A fundraiser that boosts the resources of groups fighting food insecurity, particularly during the summer, is a great way to get involved.
Volunteering at Food Banks
Even if your local food bank has all the right supplies for children in low-income families, it may need help packaging and distributing it in an efficient manner. Organize a group from your faith community to pitch in. Most food banks, even those with reliable financial support, rely heavily on volunteer labor. Once volunteers have gone through training with the bank, they provide the necessary work needed to help it succeed. While a one-time visit is helpful, food insecurity is an ongoing threat to some families in your area. Encourage members to set a regular schedule to volunteer with the food bank once their training is complete.
School provides many benefits for children and teens, and those resources shift drastically during the summer. Identifying the scope of food insecurity in your city is the first step of making a plan to help. If members of your community are looking for a way to make your city better, getting nutritious food to students on break is a great choice.