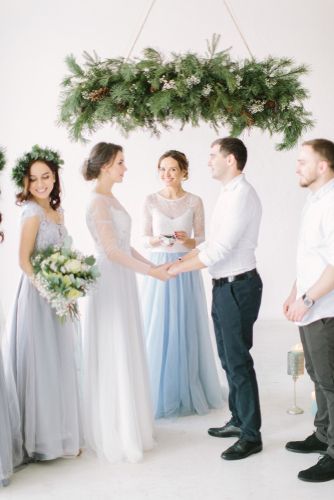 One of the first things you and your partner are likely to discuss after you get engaged is who will be in the wedding. You may assume that your officiant has to be your minister, but the truth is that anyone you deem worthy can preside over your ceremony if they are willing to take the extra step to get ordained online.
This may be particularly good news if you do not know your minister well, are each from different religious backgrounds, or are not affiliated with a church at all. There are several reasons why choosing a friend to be your wedding officiant is a smart idea.
Personal Connection
Perhaps the best reason to choose one of your friends to pronounce you married is that they know you well. A friend who was around when you and your significant other met has had the opportunity to watch your relationship grow. He or she knows the stories to tell that you are likely to find the most meaningful and can offer a unique perspective on your relationship. Having a friend officiate your wedding adds a personal touch that you just can't get with a hired minister.
Broader Choices
Many parents hope that their children grow up with the same basic religious beliefs that they have. This is not always the case, though. Even if your parents always envisioned your wedding in their church with their minister, that doesn't automatically mean it has to be your dream, too. The person you select as your wedding officiant should be someone both you and your partner are comfortable with, and being able to ask a friend broadens the scope of your options.
Even if they try not to do so, ministers may bring their own ideas of what marriage should be to the table, and their philosophy may not match your own. They may have difficulty bridging the gap between their own beliefs and how you want your ceremony to go. The only agenda a friend is likely to have as your officiant is making your special day as memorable and wonderful as possible.
Friendship Recognition
You and your partner are not the only ones who benefit from having a friend officiate your wedding. It also communicates that you hold the friend in high esteem by giving him or her a cherished place in your ceremony. It is not always easy to find ways to honor friendship in a world that views a romantic partnership as the ideal goal. This is a way to show that the two of you value your friend's role in your lives.
Easy Ordination
To be legally wed, your officiant must have certain credentials. In the past, these requirements included a vocation that followed a seminary degree for religious services or special designation by the state for civil ceremonies. However, now it is easy for anyone to get ordained online. Your friend can be ordained by the Universal Life Church simply by providing some basic information in the form on the website:
Full legal name
Age
Location
Email address
The site also includes many resources on how to perform a wedding ceremony and the duties involved in doing so. Rather than interviewing credentialed ministers to find a good match, you can just choose someone who you already know would do the job well. All your friend has to do at that point is make his or her ordination official.
When it comes to your wedding day, you deserve to have every detail planned exactly the way you want it. Asking a friend to officiate adds a personal touch to the festivities that you can remember forever.