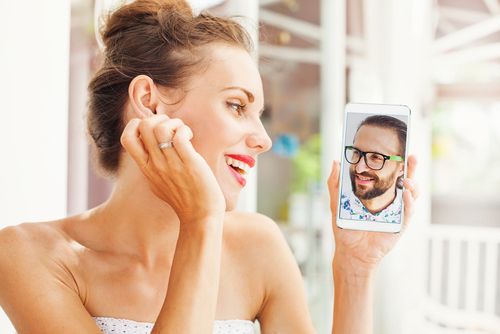 Planning a wedding can be stressful no matter what the circumstances. When you are involved in a long-distance relationship, it can add another layer of complication to the mix. That doesn't mean it can't be done well, though. The following tips can help you create the wedding of your dreams even if your partner is far away.
Maintain Good Communication Habits
If you and your fiancé have been traversing the long-distance relationship tightrope for a while, you probably already have some good communication habits in place. Keep up the good work while you are planning the wedding. First, make sure you're on the same page about what you want in a wedding. Each of you should make a list of essentials for the ceremony and the reception and compare notes. Establishing this baseline will help make the rest of the planning process go more smoothly.
Second, remember that there is much more to your relationship than the wedding. While it is an important moment, it's still just one day in the long, happy life you will share together. Check in with each other frequently to keep your partnership strong. You may even consider taking a short trip together right before all the festivities start so that you can reconnect prior to the rush of the big event.
Employ Exceptional Organizational Skills
Even when you see each other every day, planning a wedding is a major endeavor with a checklist a mile long. Setting your budget, timeline and task list can be more of a challenge when you also have to factor in the times when both of you must be present. For example, you will likely need to procure the marriage license together, so you have to take travel plans into account for that occasion. While you may divide most of the tasks between the two of you, there may be some items on the list that you both want to be involved in:
Choosing a caterer
Auditioning the band
Testing the cakes
Interviewing the officiant
It's never too early to make sure your calendars are in sync. After you have set the dates that you'll need to be together, book your travel plans for those occasions so that you are prepared.
Look Beyond the Wedding
Most couples experience an adjustment period after they tie the knot. This is particularly true for  partners who don't live in the same city before they get married. At some point, the long-distance aspect of your relationship is likely to end. While it may be hard to imagine that being closer could be stressful, as with any major life change, it is probably going to require both of you to step out of your comfort zone a bit.
In addition to talking about where you are going to live and how you envision your future family, consider all the elements that make up your daily living habits. Are you a morning person or a night person? What aspects of housekeeping are the most important to you to maintain, and which ones do you loathe doing? What is your role as each of your parents age? How are you going to handle your finances? These are questions that you would typically answer in pre-marital counseling sessions, but you may not have the opportunity to meet with your couples therapist very often. It's still important to do the work that you would do if you were having regular sessions.
Planning a wedding with a long-distance sweetheart may add another degree of difficulty to the process, but it can still be successful. With a little more planning and an intentional commitment to excellent communication, you can pull off the wedding of your dreams.