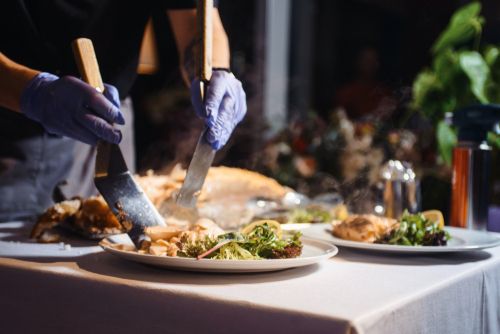 Covid-19 ravaged the world, forcing many events and other social plans to be put on hold. For many excited couples, this meant canceling or postponing their weddings indefinitely. After the first wave passed, however, some decided to embrace the challenge and get creative. As a result, many new trends have emerged and have been so successful that they may have a permanent place on savvy wedding planners' lists of recommended options.
Catering
Buffets have never had great reputations as far as germ control goes, but their popularity has dramatically decreased even more with those who are concerned about minimizing the potential for spreading disease. Instead, many weddings embraced the charming trend of individualized food and beverage options:
Miniature hors d'oeuvres
Tea service plating for each table
Custom to-go cocktails
Cupcakes or miniature cakes
Couples who still want to serve a sit-down meal at the reception are likely to spend a little more of the budget on waitstaff to serve each table. Guests love to be pampered with a nice, unhurried meal without having to figure out how to refill their drinks or retrieve their own slice of cake. What may have started as a desire to minimize the need for guests to move around the room has become a reminder of the extra touch of hospitality this serving style brings to the party.
Guest List
The modern couple who just wants a simple wedding may be excited to hear that micro weddings are gaining popularity. Traditional weddings often induce pressure to include everyone who might possibly be interested so that you don't hurt anyone's feelings. By contrast, the micro wedding is specifically designed to whittle down the guest list to the essential people with whom you want to share your joy.
A smaller guest list may solve other common conundrums for the happy couple. When your wedding is the size of a large dinner party rather than a huge event, you don't necessarily have to limit the toasts to just the main two attendants. Everyone who wants to share memories and best wishes can easily do so in a more intimate group without the speech portion of the reception going on too long. A cozier event can also help you save money to spend on your honeymoon or to start your new life together, or you can pull out all the stops and make those more expensive but spectacular upgrades for your wedding.
Setting
Outdoor weddings have always been popular with some crowds, but they may be on everyone's list of possible location ideas from now on. When social distancing is a factor in planning, an open-air venue offers more possibilities than an indoor space can. Not only have betrothed couples found new ways to celebrate their love in the great outdoors, but businesses have also learned to adapt to challenges and thus now are better equipped to host parties al fresco. Consequently, there are more choices than ever when choosing a wedding venue.
After abstaining from travel for so long during the pandemic, many people are taking more serious looks at destination weddings. This trend gives you and your partner a new start together and a new adventure all at once. It can also resolve several common wedding planning issues such as an out-of-control guest list and an over-the-top decorations budget. Many resorts offer event organization services as part of their package options, so this is also one of the easiest types of weddings to plan.
While no one would argue that a global pandemic is a positive thing, the resilience of humanity often shines in the midst of adversity. These wedding trends reflect the ingenuity of those who haven't let such an obstacle stand in the way of their happiness.