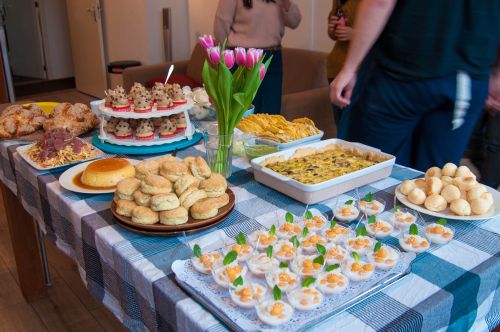 Faith communities often love to gather together to share a meal. While these dinners may occasionally be catered, the most common structure is a potluck. Tables full of 9x13 baking dishes and an abundance of bread, cookies and salads supply an opportunity for enjoying each other's company in a relaxed setting. Part of the fun of hosting a potluck is that you don't really know what you'll end up getting. Some people will always bring the same beloved dish, while others branch out and try something new every time. If you don't know what to bring, the following ideas can add to your repertoire.
One-Pot Options
The casserole is the quintessential potluck food. It's easy to make and easy to transport. When you don't know what anyone else is bringing, a casserole is a great idea because it often satisfies multiple food groups and thus can function as a main dish or a side, wherever there is a need. You don't have to stick to your old standbys. Take the benefits of casseroles to the next level with these one-pot options:
Miniatures
The church potluck is a good way for members who love to cook to show their skills. There are often so many choices, however, that you can't always fit everything on one plate. Creating bite-sized versions of popular foods is a way to give everyone a chance to try a small portion. Sliders of your favorite burger or sandwich can be cut into even smaller pieces. Sausage balls or mini muffins (savory or sweet) make it easy to grab one or a few. Use skewers to string a few bites together. Anything you can do to make portions simpler and smaller is likely to be appreciated by those who dislike missing out on any of the delicious treats.
Snack Boards
A charcuterie board is a great idea for an afternoon snack, appetizer or easy dinner. It also is a welcome addition to any potluck gathering. You don't have to stick to the traditional basics of meat, cheese, nuts, pickles and fruit, though. A chopped vegetable platter is a great alternative for picky eaters who may have a difficult time finding a salad they like. A basket of different types of bread adds carbohydrate comfort to any meal. Try a theme board. For example, you can give your board a movie theater theme by including different kinds of popcorn, pretzels, chips and candy. Narrow your focus with a chocolate and fruit board, or serve toast points with different types of jam. The possibilities are endless and sure to delight.
Desserts
No potluck is complete without a dessert table. If baking is your strength, this is your opportunity to let it shine. The best options for a group setting are those that are easy to sample. Small cookies or presliced bars help attendees choose portions that leave room for multiple treats. If you bring a pie or a cake, it's a good idea to remove and place the first piece on a small plate beside the dish. This allows guests not only to see the layers under the crust or frosting but also to avoid being the one to chance making a mess with the first slice.
A potluck is a festive way to gather as a community with no agenda other than enjoying each other's company. Everyone has to eat, so why not make an event out of it? You don't have to look far to find a new potluck idea to share. A little creativity is all it takes to make your contribution memorable.