Elysia Skye and her sister, Arielle Haze are professional wedding officiants who received their ministry license from the Universal Life Church Ministries. Rev. Haze and Rev. Skye founded LA Wedding Woman and offer three types of ceremonies, ranging from $125 to $400.
Universal Life Church ministers interested in solemnizing marriages should carefully read what she has to say; this is how a professional does it!
---
Tell the Universal Life Church Ministries and its ministers about your favorite or most memorable wedding ceremony!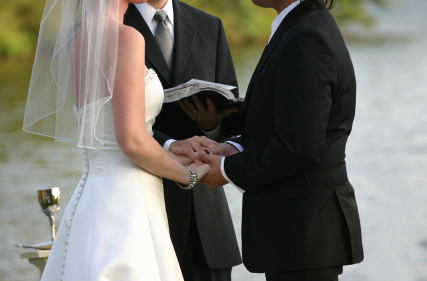 Who was the couple? Amber and Jeff [were their names and they] found me on Yelp. We were total strangers until we met for coffee and fell madly in love! The first question Jeff asked me is "What do you think about aliens?" and I said, "Like, do I believe they're out there, or what do I think they're doing right now with us? Because I do believe we're not alone and I'm sure there are many more species even in our own universe." He said right away, "Ok, you can marry us. Now let's talk about the wedding."
Where was the wedding held? The wedding was at the Natural History Museum in downtown Los Angeles. It was indoors in front of the T-Rex, and the reception was in the extinct mammal hall.
How did you prepare for the wedding? We had a meeting ahead of time where I brought a ceremony template with me, and we created their unique customized ceremony around it. We spoke on the phone a few times and exchanged emails to finalize the details, timing and any additional help or advice they needed for the rest of their wedding. I arrived 45 minutes early to help them with any last minute set up they or the wedding coordinator may have had.
What special, interesting, or unique events were a part of the ceremony? It was a beautiful and interesting location ([LA Wedding Woman's] third wedding there, actually), to have it in front of an actual dinosaur. The couple is vegan so they had a spooky vegan hot dog cart outside; everyone went out front to get their meal, and it was amazing! They had chips, and a variety of vegan hot dogs. To go with the spooky theme, the groomsmen all wore mint green ties with little black bats on them. They, and even the bride, wore Converse shoes. It was fantastic!
Any particularly memorable moments? I was actually brought to tears during their vows, along with many others. I received many compliments afterwards on how the ceremony was "so them!". I stayed for the reception and had fun dancing with many of the guests. I don't normally stay, but I was invited and my brother was DJ-ing for them. They didn't have anyone filming the toasts, so I filmed them on my cell phone camera for them. They really appreciated that.
---
Interested in having Rev. Skye officiate your wedding? Contact her through her website or visit her Yelp page to get a hold of her.
If you would like to see how another ULC minister performs a weddings, click here to read the answers Rev. Gurley of the Atlanta, Georgia metropolitan area gave for the above questions.