Officiating a Wedding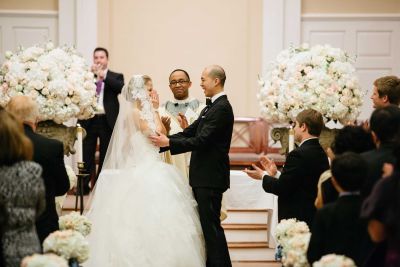 Have you been asked to officiate a wedding? Looking for some guidance? Well, you're not alone. There's a first time for everything, and we know what it's like to be in your shoes. To ensure that the big day goes smoothly, we've developed a simple step-by-step guide for officiating a wedding. Just follow the instructions below!
1. Become Ordained
This first step is easy! To become a legal wedding officiant, just visit our Online Ordination page and follow the instructions found there. Double check that all your information is correct, press "submit", and we'll process your ordination – it's as simple as that! If you wish to learn more about becoming an ordained minister in your area, you can visit our comprehensive guide here.
Becoming a licensed minister is completely free, and your ordination is good for life. It is recommended to make sure you are ordained with an American marriage ministry such as the Universal Life Church.
2. Research Local Requirements
Next, you'll need to check the requirements for performing a marriage in your area. Marriage laws often vary from state to state, and can even change depending on what county you're in.
Before officiating a wedding, contact the marriage officials in the county where the wedding will take place. Explain that you're a minister preparing for an upcoming wedding, and ask what documents they need to see from you. In order to verify your status as a wedding officiant, you might be required to present a physical document such as an ordination certificate or a letter of good standing with the church. These documents, along with many other wedding-related items are available in our online catalog.
For more details about local laws and statutes, as well as contact info for specific county marriage offices, head over to our wedding laws page.
3. Pre-Wedding Consultation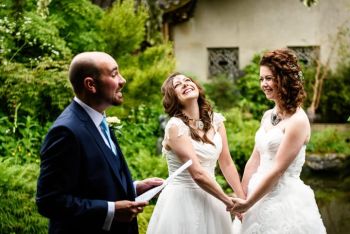 Before the wedding, you should consult with the couple and figure out what type of ceremony they are envisioning. For example – will it be a religious wedding, or will the ceremony be secular? Formal or informal? It's important to record these details early on in the planning phase. Be aware that the couple may also have special requests or certain features they'd like included – make a note of these.
As the minister, you'll likely be in charge of writing a script for the ceremony itself. We realize this can be a daunting task, which is why we've built our very own Wedding Ceremony Script Generator to assist you in the process! We cover a wide variety of wedding ceremonies, from a devout Christian wedding, to a symbolic sand ceremony, there's plenty of options no matter what kind of wedding you're planning to officiate.
Finally, to ensure that things go smoothly on the big day, it's advisable to hold a rehearsal prior to the actual ceremony. Even a quick walk-through the night before can prove tremendously helpful.
4. Performing the Ceremony
Now it's showtime! Run through your script one last time, take a deep breath, and start the ceremony. Remember to speak slowly and clearly so everyone in the audience can hear you.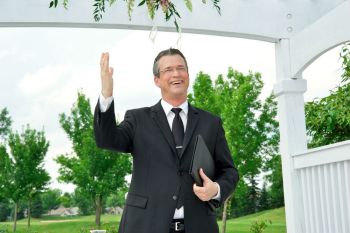 A quick note about the style and substance of the ceremony – this will largely be up to the couple to decide. While tradition dictates that certain aspects be included (such as an exchange of vows), many of these are not legally required. In fact, a legal marriage ceremony has only two required elements. The first is the Declaration of Intent, otherwise known as the "Do you take…" and "I do" exchange. The second is the Pronouncement, where the minister pronounces the couple as officially married. As long as the ceremony includes those basic elements, it will be considered legally binding.
5. Sign the Marriage License
OK, almost done! This is the final step. After the ceremony, both the minister and the couple must sign the marriage license. In some localities, witnesses to the ceremony will also be required to sign (this will be indicated on the marriage license itself). Once all the signatures have been collected, simply return the license to the county clerk's office. One final note: the time window for returning the document can vary from place to place – make sure it gets returned prior to specified the due date.
After all the paperwork has been submitted to the proper authorities, the wedding ceremony will be official. Congratulations, your job is done!
Click the following link for more tips on performing a ceremony.