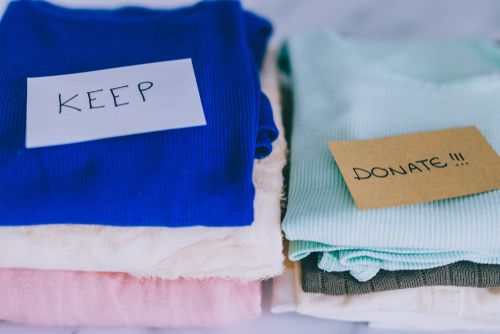 Many homeowners consider decluttering a normal part of their spring cleaning list. The whole family bands together to get rid of excess belongings that may have better uses elsewhere. Even if you grew up with complicated messages about the things you own, it's so satisfying to see not only how much space you can free up but also how much you have to give to other people.
Decluttering the whole house is a massive endeavor, though. If the idea of tackling such a huge project all at once makes you fret, there is a simple solution. Divide the work into the different seasons when each task can prove the most helpful.
Fall
Fall is a great time to clear out your closets. Once the school year is well underway, set aside a weekend to sift through every family member's clothes and shoes. Gather the things that no longer fit or haven't been worn for a while and place them together in a designated area of your home.
Once everyone has finished cleaning out their own closets, the sorting process begins. Discard items that are too worn to be useful. Then, separate the remaining pile according to the different places you can donate. For example, when the weather starts to cool off, homeless shelters often appreciate donations of items that provide warmth:
Coats
Hats and caps
Gloves and mittens
Scarves
Sweaters
Blankets
Winter
The coldest season is a great time to clean out your pantry. Of course, if something is expired, you should throw it away. Random items that are still good but you can't or won't use, however, can be donated. As long as they are in their original packages, there is no reason to toss them in the landfill.
Many food banks or soup kitchens need extra donations around the winter holidays. If you have too many of a specific canned good, someone is likely to appreciate the gift. You may even choose to supplement your donation pile with staples such as canned vegetables or soups before you drop it off at the collection center.
Spring
Spring is the time when everyone is looking for excuses to get outside. This makes it the perfect season to tackle that mess in the garage and get rid of extra sports or outdoor equipment. Start by organizing the equipment that you use; then it will become clear which items are excess.
Your local YMCA or Boys and Girls Club may be able to take gently used sports equipment. If the chapters aren't set up to receive such donations, a thrift store is likely to want them. Bicycles that your children have outgrown can often be passed down to younger members of your church or traded in at bike shops where they can find happy new owners.
Summer
Many people like food that cools them off in the summertime, which means a lot of your kitchen tools get a little rest. This is a great time to sift through household goods, particularly duplicates or gadgets that you don't use in your kitchen. It's also a good time to upgrade your furniture, which means you need to find a place to send the used but still sturdy pieces.
Outdoor activities may be popular when it's warm outside, but summer is also the time when families prepare for the next school year. For those with kids going off to college, this entails much more than buying a few new clothes and school supplies. They may be furnishing an apartment for the first time, and some secondhand household items and furniture can help ease the cost for families in your church and community.
If decluttering your whole house at once seems daunting, take heart. You can complete these tasks throughout the year whenever the need for certain donations is greatest.