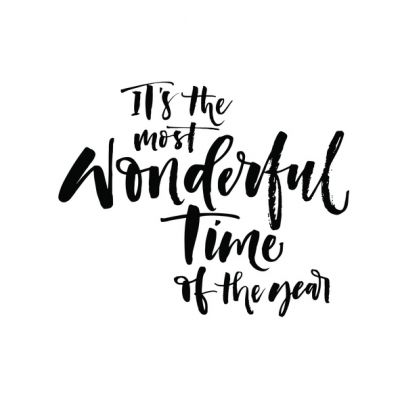 It doesn't matter what holiday you celebrate this winter season, it can be difficult to find holiday cheer amid a busy life, news reports, and the political atmosphere in the United States. Instead of trying to force holiday spirit this year, relax and admit that you aren't that excited for whatever reason. Here are four quotes and one poem from well-known people to remind yourself that there's more to the season than presents, busyness and perfection.
Caroline Kennedy, daughter of President John Kennedy, said, "Sharing the holiday with other people, and feeling that you're giving of yourself, gets you past all the commercialism." This is a good reminder to focus on what's important to you during the season. Find people that you want to be with on the holiday of your choice and make it happen.
Fred Rogers, host of "Mister Rogers Neighborhood," was a beloved American television personality, puppeteer and Presbyterian minister. He said, "I like to compare the holiday season with the way a child listens to a favorite story. The pleasure is in the familiar way the story begins, the anticipation of familiar turns it takes, the familiar moments of suspense, and the familiar climax and ending." This quote helps you understand why it's so difficult to start new traditions during the holidays. People like the familiar. That's not to say that you can't add new things to your holiday celebration, just keep in mind that those old traditions are like a comfortable blanket.
Will Ferrell, American actor, said, "'Elf' has become this big holiday movie, and I remember running around the streets of New York in tights saying, 'This could be the last movie I ever make,' and I could never have predicted that it'd become such a popular film." Ferrell reminds us to enjoy the moments we have this year, because it could be our last one with these family members or friends. Then, in the same breath, he adds hope. Cherish the memories you make this holiday season.
Oren Arnold, author, recommends, "Christmas gift suggestions: to your enemy, forgiveness. To an opponent, tolerance. To a friend, your heart. To a customer, service. To all, charity. To every child, a good example. To yourself, respect." Good thoughts this year when you struggle with gift-giving.
Henry Wadsworth Longfellow wrote the following poem during the Civil War. A couple of years earlier, his second wife tragically died. His son joined the Union forces and was severely wounded. His son would recover, but Longfellow struggled with finding his own peace. Even if you don't celebrate Christmas, you can still appreciate the sentiment.
I HEARD the bells on Christmas Day
Their old, familiar carols play,
And wild and sweet
The words repeat
Of peace on earth, good-will to men!
And thought how, as the day had come,
The belfries of all Christendom
Had rolled along
The unbroken song
Of peace on earth, good-will to men!
Till ringing, singing on its way,
The world revolved from night to day,
A voice, a chime,
A chant sublime
Of peace on earth, good-will to men!
Then from each black, accursed mouth
The cannon thundered in the South,
And with the sound
The carols drowned
Of peace on earth, good-will to men!
It was as if an earthquake rent
The hearth-stones of a continent,
And made forlorn
The households born
Of peace on earth, good-will to men!
And in despair I bowed my head;
"There is no peace on earth," I said;
"For hate is strong,
And mocks the song
Of peace on earth, good-will to men!"
Then pealed the bells more loud and deep:
"God is not dead, nor doth He sleep;
The Wrong shall fail,
The Right prevail,
With peace on earth, good-will to men."