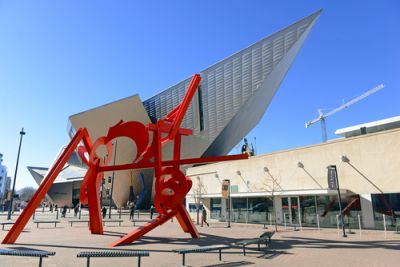 Called "The Mile High City," Denver was named the best place to live in the United States by U.S. News & World Report in 2016. The city might be known for sports and recreation because it's so close to the mountains and has a first-class professional football team, but it has nationally recognized museums and supports art and culture throughout the city. Four Mexican American celebrations are held each year, because of its large population of Mexican Americans. Here are some of the best museums to explore heritage, culture and religion in Denver.
Denver Museum of Nature & Science
Until September 3, the DMNS is hosting an exhibit of the Dead Sea Scrolls, but there's much more to this museum. There is a gallery of North American Indian Cultures, an exhibit that focuses on Russian folk life and kid's discovery areas. The Egyptian Mummies exhibit sheds light on the lives and deaths of two Egyptian women. You have to buy special tickets to see the Dead Sea Scrolls. Make your reservations before they're sold out.
Denver Art Museum
This museum is thought to hold the largest art collection between Chicago and Los Angeles. On the first Saturday of the month, a local business sponsors free admission. One current exhibition features Ganesha, a god in the Hindu faith. The museum has its own collection of Native American, European, Asian and Pre-Columbian art that will give you a glimpse into other cultures, with some religious figures and lessons that help students reflect on how religion influenced art and life.
Museo de las Americas
Museo is dedicated to Latin American art—both ancient and contemporary works. Check the calendar for special events and workshops, such as "The Art of Consuming la Tortilla." Through a gift from Target, Museo is offering a tolerance and diversity workshop that looks at Tigua paintings from Ecuador.
Orgyen Khamdroling Dharma Center
This center offers open meditation every Thursday evening, but it also has an extensive list of programs offered to the community. Informal teachings are also scheduled. Check the calendar if you're interested in learning more about Buddhism, meditation and contemplation.
Center for Colorado Women's History at Byers-Evans House
Learn more about how women impacted the history of Denver. Make sure to check the calendar for special events. There's an upcoming lecture in October that discusses the most interesting women of Colorado's history. This museum is the first state museum that focuses on the past, present and future achievements of women in Colorado.
Black American West Museum & Heritage Center
This Victorian home is filled with artifacts that tell the story of African Americans in the West. The home once belonged to Dr. Justina Ford, the first black woman doctor in Denver. The founder of the museum wanted to document the existence of black cowboys in the West.
Mizel Museum
Denver may not be the first place that comes to mind for Jewish heritage, but it does have a thriving Jewish population. Mizel Museum has a permanent exhibit that is a platform for discussions about social justice, cultural identity and cross-cultural understanding. There is a series of photographs of local Holocaust survivors that helps to combat anti-Semitism.
Cadet Chapel, Colorado Springs, CO
You'll have to drive about an hour to visit this site that Huffington Post refers to as the most spiritual place in Colorado. The architecture is amazing. The 17 spires shoot 150 feet into the sky. The chapel hosts 14 groups from seven distinct faith backgrounds. It's used for worship, training and weddings, but only a select group of persons are eligible to be married in the Cadet Chapel. It's well worth the drive to Colorado Springs to view the structure and see how different faiths coexist in one building.