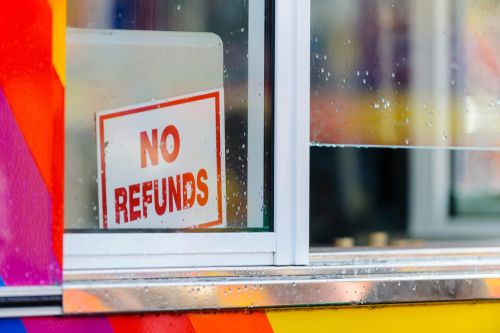 Weddings are often incredibly expensive affairs. While costs can vary depending on individual decisions, the average couple in the United States still spends over $30,000 on their big day. These expenses generally include finding and reserving a wedding venue months in advance, in addition to creating invitations and planning for dozens of friends and family members. A wedding represents a major change to a person's lifestyle, and with all the money and personal stakes involved, emotions can run high. The COVID-19 pandemic left many couples distraught this spring as they were forced to delay their wedding plans for uncertain amounts of time. The consequences of the past few months have gone further than a simple delay though, with many couples losing large sums money on their postponed event.
Closures Due to Safety Concerns
The almost universal postponement of weddings at the beginning of 2020 happened for understandable reasons. As mingling with other people became unsafe, plans for large events were off the table. Funerals, conferences, parties, and other gatherings in addition to weddings all had to be adjusted or canceled to keep participants safe. While some gatherings such as funerals could sadly not be postponed, there were opportunities to push back wedding dates in hopes of having a more normal event. Although some couples opted for private events streamed on Zoom, for many this simply wouldn't do as a replacement for a traditional ceremony.
A lot of couples who were set on having their wedding just as they'd imagined decided to be patient. Many projected that they would be able to have their dream wedding come late summer. Sadly, with little end in sight to the dangers of the virus, it seems that they will have to alter their plans once again and keep waiting. Even as some states begin to open back up, size restrictions on gatherings still apply. With reopenings, cases of COVID-19 in the United States continue to rise. This may lead to more closures down the road.
Refused Refunds on Deposits
Waiting to get married can be a huge disappointment in and of itself, but it is often paired with additional complications. While some wedding venues have been more understanding than others, many have policies that make rescheduling difficult. Changing the date generally means losing deposits. These deposits can involve substantial sums of money that the engaged couple won't be able to get back. While it can be very frustrating to the couples affected, this is not a one-sided issue. The wedding industry and those employed within it are also losing money from the effects of the pandemic, and many have been forced to take what they can get for revenue.
The situation is even more difficult now, as it seems that many weddings that have been rescheduled once already may still have to be postponed. It is becoming clear that the pandemic may drag on for some time yet. Alternative options, such as holding smaller, more private ceremonies or opting for a live-streamed wedding are starting to look like a more viable option for those eager to get hitched. Sadly, this may mean more lost money both for couples who had previous plans and for the wedding industry as a whole.
Continued Complications
Many couples who waited eagerly to have a postponed wedding this summer are once again discouraged by the continuation of the global COVID-19 pandemic. Sadly these couples may have already lost deposits on prior arrangements with venues. Refunds are often unavailable for couples who reschedule weddings, and it seems that it will be some time still before traditional weddings can once again take place in most parts of the United States.