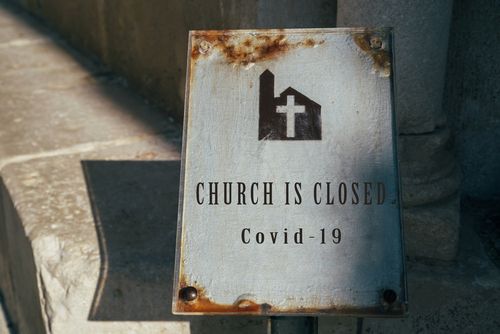 The COVID-19 pandemic has put societal norms to the test. While the shutdown of any gathering can be frustrating, one area where government policies against large meetings have been especially contentious are in religious settings. Some churches have gone as far as to sue for their right to gather. One church in Nevada eventually had its argument submitted to the Supreme Court for possible consideration.
Both Sides of the Argument
Religious gatherings, whether they be for regular church services or for other reasons, often involve large groups of people packed into relatively tight spaces. While it makes sense to try and keep people apart out of interest for public health, for many, losing access to religion is unacceptable. Some churches have attempted to find a compromise by holding services online. Unfortunately, the transition to online church is not always smooth and the resulting experience can be unsatisfying.
The argument that has frequently been brought up in the United States during the pandemic is that preventing people from gathering is an infringement upon their rights. The Constitution protects rights such as freedom of assembly and freedom of religion. Advocates of allowing large church services to continue being held often use this as the basis of their argument. One church in Nevada took the issue to court. Its case was eventually submitted to the Supreme Court.
Denial of the Court Case
The Supreme Court of the United States has the power to select which cases it will hear. This is mainly for logistical reasons and to allow the most important cases to be considered as quickly as possible. The Court receives around 10,000 cases a year, far too many to be reviewed in a timely manner. The vast majority of petitions to the Court are denied, with only around 80 being reviewed every year. The case of the Nevada church and its right to hold regular church services was one of many that the Supreme Court turned down, causing some outrage among those hoping to fight for their ability to gather.
Responses to the Supreme Court's Decision
Many of those who were hoping to be represented by this case voiced continuing frustration over restrictions. Casinos and restaurants in the state of Nevada are currently authorized to stay open as long as they limit patrons to half of their building's capacity. Churches have not been given the same opportunity and instead have had to cope with a 50-person limit on attendees, regardless of the size of the church. These restrictions are viewed by many people as unfair. Similar situations are occurring throughout the nation, with many religious groups actively pushing back against limitations on gathering. The arguments on why they should be able to meet are based on both politics and religion, with many claiming they will be protected from the virus while worshipping.
The Future of Religious Gatherings 
While it is understandable that losing the ability to attend church can be devastating, the safety of the country as a whole must be taken into account. People who break social distancing guidelines may be putting whole communities at risk. During these uncertain times, many government leaders feel that it is best to play it safe. That being said, many people are still upset that larger businesses seem to be given special treatment while church services are often canceled altogether.
A church in Nevada that tried to take the issue of gathering during the global pandemic to the Supreme Court had its case turned down. This is not unsurprising, as the Court has to pick and choose which cases it will consider. Despite the case not being further reviewed, the debate goes on about whether state governments should be able to forcefully limit religious gatherings.