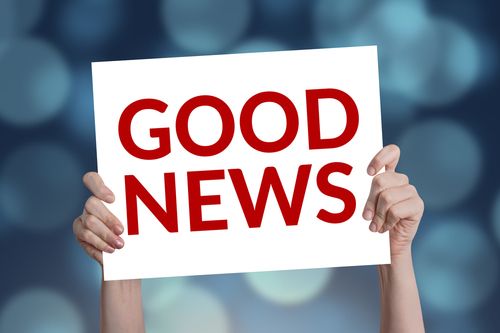 It seems like all anyone talks about these days is the coronavirus. While it's good to stay informed, too much exposure to daunting news can be bad for your mental health and overall well-being. It may boost your spirits to know that good things continue to happen even amidst all this bad. Read on for just a few stories that will surely put a smile on your face.
Medical Good News
Seeing as much of your fear and trepidation has stemmed from the fact that COVID-19 is so rampant and can be so dangerous, you may benefit from some good news from the medical field. In just a few weeks, a small town in Italy in which the infection proved disastrous reduced its infection rates to zero. China claims to have an antiviral drug that is noticeably effective against the virus, and biotech companies are making headway in their development of a vaccine. One doctor in Japan claims that a drug commonly used to treat the flu also helps fight the COVID-19 virus.
Automakers have shifted gears and agreed to make ventilators for hospitals, which are in short supply. The Pentagon has also pledged to provide 2000 ventilators and 5 million respirator masks to hospitals across the country.
Financial Good News
Next to your health, your second biggest concern probably has to do with your finances. Though the economy is obviously hurting from the mass shutdowns and closures, the news is not all doom and gloom for everyone. Many businesses across multiple industries are doing surprisingly well during the crisis. Among those are grocers, health care providers, telecom and streaming companies and companies that provide consumer goods.
One economics professor believes that economic demand has not been eliminated but merely deferred. He anticipates that, once the worst is behind us, there will be a surge of consumer spending. Dairy farmers, meat producers and retailers say that the shelves are empty not because of lack of supply but because they're simply unable to keep up with the surge caused by panic buying.
Cultural Good News
A lot of the good in this world is happing right in your community. People are putting up Christmas lights in an attempt to spread cheer. Though you can't visit your local museums, you can sign up for virtual tours online. People are volunteering their time to pick up and drop off groceries to elderly persons and those with compromised immune systems, and country singer Brad Paisley and his wife are delivering free food to seniors in Nashville.
Historical Good News
Part of the fear surrounding COVID-19 largely stems from the fact that this generation of people has never experienced hardship on this scale. However, previous generations of Americans had to deal with smallpox, polio, yellow fever, cholera, typhoid fever and tuberculosis. Americans also lived through the Great Depression, and baseball survived the Spanish flu. The moral of the story is that most generations have been through a major event equally as, if not more, devastating than the coronavirus and yet here we are. This too shall pass.
Spiritual Good News
Though churchgoers across the globe lamented the inability to attend weekly services, churches quickly rebounded by finding creative ways to keep faith alive despite homebound orders. Many churches have mobilized their services for those in need, such as the elderly and sick. Churches around the world have gone digital, hosting worship services via videoconferencing tools. One church in Alabama accomplished the feat of testing 2,000 individuals in just two days. Most amazing of all, people from all religious and non-religious backgrounds are coming together to care for one another and contribute to the greater good.
When bad news is so readily available these days, make the conscious effort to seek out uplifting news stories. Doing so can provide a world of good for your physical and emotional well-being.