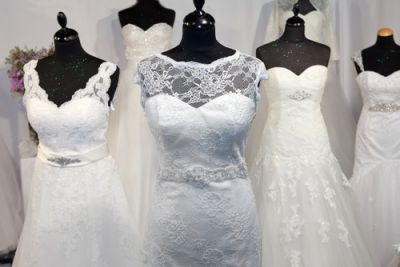 Your wedding dress is a garment that you will remember for the rest of your life. Looking at photos of you in it will bring back vivid memories of your wedding day for years to come. Not only is your wedding dress likely to be the most expensive dress you ever buy, but it also is the dress you'll wear only once. If you're lucky, however, you may be able to pass it down to your daughter someday, and possibly she, in turn, will pass it down to your granddaughter.
A wedding dress is made up of several components, including its neckline, sleeves, waistline, and silhouette. How these components work together results in a wedding dress that beautifully fits both your body type and your sense of style. On the other hand, it could also result in a wedding dress that just doesn't quite work for you. That's why it's so important that you carefully consider how all your wedding dress's parts come together. In Part I of this series, we'll talk about necklines and sleeves. In Part II, we'll talk about waistlines and silhouettes.
Neckline Choices
When it comes to the neckline of your wedding dress, you have many styles from which to choose. One of the most popular today is the asymmetric style. It consists of only one "strap" that goes across your shoulder and drapes down to your bustline, leaving your other shoulder bare. If you have lovely shoulders and arms and want to show off one of them, plus a hint of décolletage, an asymmetric neckline is an elegant way to do so.
If you prefer a more modest look, consider a bateau, also called a boat neck. This neckline forms a straight line that goes across your collarbones from one shoulder to the other. For an even more modest and classical look, consider a jewel neckline, one that circles the base of your neck, almost like the jewel necklace for which it's named.
If you want a neckline that really makes a statement, choose a Queen Anne. This style is named after Queen Anne of Great Britain, who ruled England, Scotland, and Ireland from 1665 to 1714. Known for her elaborate gowns, her namesake neckline features a high, stand-up collar in the back and a wide scoop, or less often a V-neck, in the front. This option requires plenty of fabric in the back to hold its shape, so you'll undoubtedly need to style your hair in an upsweep to best set it off.
Other choices include the following:
Halter
High neck (mock neck collar)
Portrait
Square
Sweetheart
Sleeve Choices
Your choice of sleeves for your wedding gown ranges from none at all (sleeveless) to full-length. If you dislike the completely strapless look, spaghetti straps may be just what you're looking for.
The a very short sleeve is called a cap sleeve, and it, as its name implies, merely caps your shoulders. A short sleeve, on the other hand, comes down to your triceps or biceps, while a three-quarter sleeve ends midway between your elbows and wrists.
For a truly elegant look, however, nothing beats a long-sleeved wedding dress. Whether the sleeves end in a circle at your wrists or have points on them that extend over the backs of your hands, this style is a classic that remains popular at any age.
Don't forget that the neckline and sleeves of your wedding dress can be of the same fabric as the rest of your gown, an ornamental overlay on it, or completely separate pieces of attached lace, gauze, chiffon, or any other type of appropriate material.
In Part II of this post, we'll discuss the silhouette and waistline.