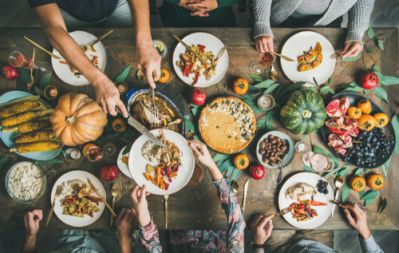 Ah, Thanksgiving. This most American of holidays started well over 300 years ago when righteous Pilgrims and friendly Wampanoag Indians came together to thank their respective gods for a bountiful harvest.
Thanksgiving has never quite been a Christian holiday despite the insistance of many less educated on its history. Ask any Christian today what song his or her congregation always sings at Thanksgiving Morning church services, and he or she almost invariably will answer "We Gather Together to Ask the Lord's Blessings." But if you're religious, you may have no clue as to how non-religious people celebrate a secular holiday. So, who do atheists thank when they gather with friends and family around the Thanksgiving table laden with turkey, dressing, and all the trimmings?
The Need To Feel Thankful
Richard Dawkins, the noted English ethologist, evolutionary biologist, author, and secular humanist, is credited with once saying that he becomes overwhelmed with a profound feeling of thankfulness whenever he looks at the Milky Way or the Grand Canyon. His precise words: "It's a feeling of sort of an abstract gratitude that I am alive to appreciate these wonders. ... When I look down a microscope it's the same feeling. I am grateful to be alive to appreciate these wonders."
The urge to express gratitude and give thanks seems to be hardwired into human beings rather than being derived from religious teachings. Most people, believers and nonbelievers alike, consider gratitude to be one of the numerous perceptions and behaviors that allow us to live as and among social animals. In addition, there's no doubt that feeling gratitude and thanks leads to altruism and social consciousness.
Thank People
Still, that doesn't answer the question of who atheists thank on Thanksgiving. Many atheists thank the people who work to make our lives better. It's easy to come up with a lengthy list of such people, including parents, farmers, doctors, inventors, builders, scientists, engineers, grocers, and on and on. But it's not hard to take it a step or two further. Some may thank those who fought against European colonization in North America, or perhaps even our ancient ancestors who migrated out of Africa and populated the world. In short, with the exception of dieties and perhaps some religious leaders, atheists thank many of the same folks as the religious do.
Date Changes
Times have changed dramatically since the first Thanksgiving. Whatever the precise date of that original celebration, Thanksgiving is today a federal — and secular — holiday celebrated on the fourth Thursday of November. However, that date has changed over time.
President Abraham Lincoln (whose religious beliefs, or lack thereof, are contested even to this day) declared Thanksgiving a federal holiday in 1863, describing it as a national day of "Thanksgiving and Praise to our beneficent Father who dwelleth in the Heavens," that henceforth would be celebrated on the last Thursday in November. President Franklin D. Roosevelt changed the date once again in 1939. He prescribed the fourth Thursday in November instead of the last Thursday. Some Novembers, like that one, have five Thursdays.
Whoever you choose to thank this Thanksgiving, November 28th, the list of possibilities is virtually endless. Happy Thanksgiving!