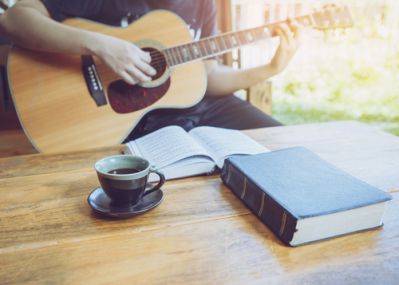 The stories behind the music can often make the words come alive. Many people believe that the traditional Christian hymns are outdated. Some are, while others still have beautiful sentiment. Here are a few stories behind some almost-forgotten hymns.
"What a Friend We Have in Jesus"
If you've seen the 1984 version of "Footloose," you've heard this Christian hymn. It's also been recorded by dozens of popular artists, including Ike and Tina Turner and Alan Jackson. The words were originally penned by Joseph Scriven as a way to comfort his mother when she was ill. Scriven lived in Canada, but his mother was in Ireland. He couldn't get home to her. Read the words and think about a son trying to help his mom through a difficult time:
What a friend we have in Jesus all our sins and grieves to bear
What a privilege to carry everything to God in prayer
Oh what peace we often forfeit of what needless pain we bear
All because we do not carry everything to God in prayer
"Leaning on the Everlasting Arms"
This hymn was inspired by a phrase from Deuteronomy 33:27. Anthony Showalter wrote the chorus for the hymn after he learned of the death of the wives of two of his former students. Showalter asked another hymnwriter, Elisha Hoffman to write the verses. The chorus:
Leaning, leaning, safe and secure from all alarms;
Leaning, leaning, leaning on the everlasting arms.
Many of the most popular hymns of today were written out of grief. This hymn has been used in many movies and television shows. It's been translated in many different languages.
"All the Way My Savior Leads Me"
The lyrics for this song came from Fanny Crosby, "the Queen of gospel song writers." It's said that she wrote more than 8,000 hymns and gospel songs. When she wasn't writing songs for the church, she had time to publish four books of secular poetry, two autobiographies and many secular music pieces. Crosby was blind, almost since birth. The story behind this poem is that she needed money. She prayed, and God answered her prayer. She never took for granted that God wouldn't be there in her time of need:
All the way my Savior leads me
What have I to ask beside?
Can I doubt His faithful mercies?
Who through life has been my guide
Heavenly peace, divinest comfort
Ere by faith in Him to dwell
For I know whate'er fall me
Jesus doeth all things well
Crosby might have been a prolific songwriter, but she was also a tireless mission worker. She had a great deal of sympathy for the poor and underserved in her time. Much of her money was given away. Many of her poems were written to support the missions. Crosby was an amazing woman to have done so much during the time period in which she lived.
"Take My Life and Let It Be Consecrated"
This popular hymn was written by Frances Ridley Havergal, an Englishwoman who was a contemporary of Fanny Crosby. The two never met, but they did write to each other. Havergal was an invalid who didn't have good health, but that didn't stop her from studying and doing charity work. It's said that her deeds surpassed many people who were in exceptional health. She penned this poem, then read it every year around Advent as a way of reminding herself to make changes in her life to be more consecrated to God:
Take my life, and let it be
Consecrated, Lord, to Thee;
Take my moments and my days,
Let them flow in ceaseless praise,
Let them flow in ceaseless praise.
She didn't just write poems to inspire. Her poems, which would be set to music, were her way of life.