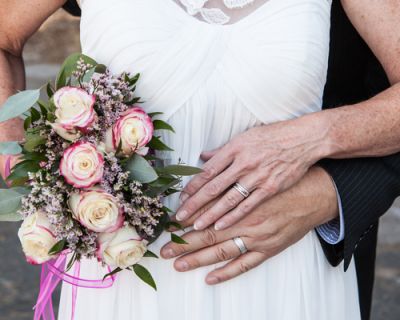 Years ago, Frank Sinatra had one of his major hits with the song "The Second Time Around." Its lyrics begin as follows:
Love is lovelier the second time around,
Just as wonderful with both feet on the ground.
It's that second time you hear your love song sung.
Makes you think perhaps that love, like youth, is wasted on the young.
If you're one of the ever-growing number of women who have indeed heard their love song sung twice, you're probably looking forward to your second wedding with a great deal of happiness and excitement, but maybe a little anxiety, too. After all, volumes and volumes have been written about everything connected to a first wedding, but considerably less information exists as to what traditions and etiquette apply to second weddings.
The good news is that your second wedding can be as small and intimate or as large and "public" as you and your intended want it to be. The only people you have to please are yourselves — no parental budgets to worry about and adhere to, and it's not necessary to invite every second cousin on both sides of the family, most of whom you've never met, just so that no one will feel left out.
Can You Wear White?
You can wear white at a second wedding, especially if your first marriage was a short one or if you simply eloped and didn't even have a first wedding. On the other hand, a white wedding dress traditionally symbolized the bride's innocence, purity, and virginity. However, that was then; this is now. How many first-time brides do you know who never slept with their groom or anyone else prior to the wedding? Still, most first-time brides do in fact choose to wear a white wedding gown, so why not for a second wedding? There's no good reason whatsoever not to.
If you're a stickler for tradition, however, and don't think you'd feel comfortable wearing a white gown, you have a variety of other color choices, including these:
Off-white
Eggshell
Champagne
Ecru
Cream
Vanilla
Ivory
Navajo white
Pale beige
Pale gray
You can also choose a white that has just a hint of pink, green, blue, orange, yellow, or lavender in it.
What About a Veil?
Like the color white, a full-length face-covering veil traditionally symbolized the bride's sexual innocence, thus the significance of her groom lifting her veil "for the first time." However, if you want to wear a veil for your second wedding, by all means do so. You just might want to choose one that doesn't cover your face. Many gorgeous veils are designed to frame your face or attach to a headpiece and then cascade down your back.
Another veil consideration is the fact that in all likelihood no man, father or otherwise, will be "giving you away," so you'll be proudly walking down the aisle by yourself. The last thing you want is a heavy lace face-covering veil that obstructs your vision, especially if you're planning an outdoor second wedding where the wind could be blowing.
Should You Wear a Garter?
As with everything else with regard to your second wedding, whether you want to wear a garter so your groom can toss it during your reception is totally up to you. The same goes for tossing your bridal bouquet. Given that these traditions have to do with an eligible man catching the garter and an eligible woman catching the bouquet, though, think about whether you have many single guys and gals at your second wedding, especially if you and your groom are an older couple.
If you're getting married for the second time, you may want to ignore the traditions that accompany most first-time weddings. However, if you'd like to include them, there's no reason not to!