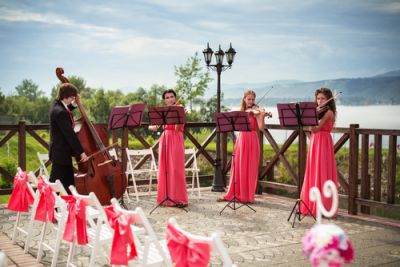 Music has always been a big part of weddings, and certainly of wedding receptions. In fact, music is often how you set the mood or tone for the entire day's festivities. Consequently, the music that you choose is just as important as the size, shape, and colors of your wedding cake. While music preferences are very specific to every individual, here are the seven top trends for wedding reception music today.
1. Elegance
Given that weddings are one of the few remaining social occasions where formal attire is appropriate, elegant music has made a comeback so as to fit right in with all those tuxedos and floor-length gowns. Should your wedding take place in a church that has a pipe organ, be sure to avail yourself of the exquisite music that only a pipe organ can produce. Other options include:
A string quartet
A harpist
A flute ensemble
A piano and cello or violin combo
2. Ballroom Dancing
Your reception should be just as elegant as your wedding ceremony. Today's trend back to ballroom dancing demands a band that can play waltzes, tangos, and foxtrots as well as more contemporary numbers. And don't forget those all-important bride/groom, father/daughter, and mother/son dances. These definitely are not the time for avant-garde music or the dance gyrations that go with it.
3. Oldies but Goodies
You're inviting a diverse age group to your wedding and reception. In all likelihood, you will have as many age 40+ guests as millennials. Consequently, booking a swing or jazz band that can belt out music from the '30s, '40s, and '50s as well as many of today's slower-paced hits will make your reception enjoyable for all age groups. Mention the name "Sinatra" when you interview potential bands for your reception and see if you get a grin, a shrug, a frown, or a totally blank look. If it's one of the last two, run for the hills. Remember, many of Michael Bublé's hits, plus those of many other contemporary artists, were first sung by Frank Sinatra, Tony Bennett, or one of the other classic yesteryear crooners. This music never gets old and is always eminently danceable.
4. Modern Mix
Just because you want your reception band to be able to play classic pop music doesn't mean that you don't want them to be able to mix in some newer hits as well. Ask the bands you're interviewing if they have any of the following in their repertoire:
The Way I Am (Ingrid Michaelson)
Viva La Vida (Coldplay)
Green Light (John Legend)
Just Dance (Lady GaGa)
5. Strolling Musicians
If you had a string quartet or flute ensemble performing at your wedding ceremony, see if they can stick around for your reception, too. When your band takes a break, strolling musicians can not only provide an excellent counterpoint, but also be something unique that you and your guests will remember long after your wedding day.
6. Themed Music
Many engaged couples today are opting for a themed wedding and reception. If you and your beloved are one of them, you can undoubtedly find a band that can play music at your reception to fit your theme, be it ethnic, movie soundtracks, Hawaiian, or whatever. A whole afternoon or evening of one type of music, however, can get old after a while. Your band should be multitalented, able to play a variety of music types.
7. Music to Move To
Just because you want your reception to be elegant doesn't mean that you want its music to be staid. In addition, just because you're inviting many guests in the 40+ crowd doesn't mean that they can only waltz or two-step. Remember, the generation that shocked the world with the West Coast and the Twist are now in their 60s and 70s. Most of them can still "shake a leg" (or other body parts) pretty well, and would love to have the opportunity to do so. So you might want to look into booking an R&B, reggae, or Latin band that can add plenty of zing to your reception.