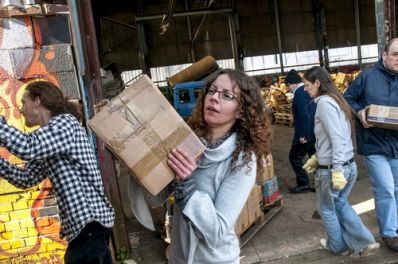 One new trend in tourism is volunteering while you're on vacation. It's not just for spring break any more. Voluntourism is about making a difference in the community where you're staying. It doesn't mean you have to be a martyr, sleep in a tent on the ground and not enjoy the culture. Whether you're flying overseas or working locally, you can still have a meaningful vacation. Here are some tips to help you find a place to volunteer and visit.
Decide On Your Vacation Experience
Consider where you want to go before you start searching for opportunities. This is your vacation after all. You want to spend some time in a place that excites and interests you. Then, think about what you really enjoy doing. You don't want to commit to a week of gardening if you don't like being outside. Think about what will fulfill your soul. You might want to work with children or animals. If you're a history buff, you may want to find a place in a museum. You can find volunteer opportunities around the world at Charityguide.org.
Think about how much time you want to give out of your vacation. Many hotels are offering part-time community experiences. The Ritz-Carlton has Give Back Getaways for its members. For instance, if you were vacationing in St. Thomas, you could spend an afternoon at a mangrove nursery, planting seedlings or replanting young plants. Many hotels have philanthropic programs designed for short experiences.
Your other option is a travel company that plans almost your entire vacation. You'll need to do your homework and check reviews. Responsibletravel.com is a good place to start. Always ask about the company's sustainable efforts and what type of projects are funded. Think about smaller tour groups and look for boutique hotels to leave a lower carbon footprint with your stay.
You'll need to do your research. Different parts of the world will have different opportunities. In more developed countries, you may find work on farms or in tourism. You can exchange your work for room and board. In undeveloped countries, you may find opportunities in orphanages or at wildlife refuges.
Ask Lots of Questions
You should contact the organization that you're interested in to make it they has activities for you. Some organizations may require a resume and personal references. Be prepared to include a paragraph or two about why this volunteer work is important to you.
Some organizations act as middlemen and charge high fees to coordinate volunteers with volunteer organizations. Try to avoid this service and contact the organization where you want to work directly. If you do work with a contracting organization, find a place that only charges enough to cover expenses.
Many voluntourism organizations will let you talk to people who have taken vacations with the company. Ask about pros and cons or what could have been improved about the vacation. Find out what advice they would offer. You might be able to find information about a particular company or organization on one of the travel message boards.
Before signing a contract, make sure all terms are clear before accepting. Check minimum time commitments. Know what you are financially responsible for. What happens if you have a last-minute cancellation?
How Can You Tell if You Make a Lasting Impact?
Look for opportunities that are designed for the benefit of local residents, not just travelers. U.S. News recommends looking for local nonprofit organizations that partner with non-governmental organizations to have the most impact on the local community.
Remember, there's only so much you can do in a few days. It's the combined efforts of everyone that leads to substantial change. Taking a volunteer vacation is a rewarding experience, but you do have to make sure that you're really helping.