History was made on July 24th, 2011 by the Pop Up Chapel and the ULC got to be there for it.
Though we ordain hundreds of people every day, the Universal Life Church rarely gets to witness the weddings performed by our ministers.
This changed on July 24th 2011 when the Ministries sent four employees to New York to be at the Pop Up Chapel at Merchant's Gate in Central Park.
Pop Up Chapel was an event organized by a group of friends, one of whom is a ULC Minister. Starting as an idea that came in the wake of marriage equality, voiced by ULC Minister Bex Schwartz, who also officiated two weddings that day.
"I was a great wine bar called Therapy in Bed-Stuy with some friends when the marriage equality act passed. We were so excited and elated; we wanted to do SOMETHING to celebrate the equality of all humans in NY. We waited for this moment for a long time. My friends and I had a crazypants idea, and as soon as we announced it, we were inundated with offers of support and help."
From the moment of conception to the actual event just thirty days later, Pop Up Chapel received sponsorship from some of the biggest names in the wedding business, with the Knot, one of the most popular wedding planning websites, being their primary sponsor. This proved to be integral because planning one wedding inside of a month would be hard enough, but planning a bunch would have been almost impossible, especially because the Pop Up Chapel began as a zero-fund event.
"[Bex] wanted to marry every gay couple in New York, I wanted to do two weddings" said Josh French, another mind behind the Pop Up Chapel.
They settled on 24 couples. There would be 14 wedding officiants from all different backgrounds, eight of which were ordained through the Ministries.
The couples were chosen on a first come, first serve basis. The spots filled up extremely quickly, and after the first 20, they began to contact all of the couples who had signed up and make sure no one was going to get cold feet. Just a few weeks later, the 24 final couples were locked in and more than 70 had applied.
Now that the couples had been finalized, it was time to create a space for their ceremonies.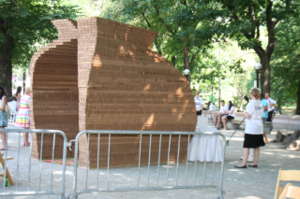 Architizer, a website which "empowers architects", sponsored a chapel contest. The winnings designs would be awarded budget of $3,000 however, contestants had only ten days to conceptualize their chapel and send in their submissions.
There were two Pop Up Chapels in the park that day. There was Z-A's honeycomb cardboard design, the Kiss Chapel, which was comprised of two sides which would form a "stable entity [that is] more than the sum of its parts," on one side of the area where the weddings took place. One the other side was the iCrave's Pop Up Chapel which was made of beautifully colored and arranged ribbons that cascaded down over the ministers, brides and grooms.
The scene was beautifully set, the couples chosen and the ministers ready to go on the day of the event. Though New York had been in a heat wave, it had recently subsided, a good thing because the couples were dressed to the nines in their wedding attire. With some grooms in tuxedos, others in shorts and brides in everything from princess gowns to Chuck Taylor tennis shoes, the temperature hovering around 90F was better than it being up over 100F.
In the words of the Pop Up Chapel twitter, "the day went off with many hitches" but no problems. The weddings were all beautiful and the tears shed were those of pride, excitement and joy as opposed to frustration.
Many of the couples had waited for decades while others were for couples who had been able to be wed when they were able. Young and old, the couples were beaming, as was the crowd.
"The whole state of New York is proud of you right now," yelled one of the spectators during ULC minister Tony Adams' first service. That is certainly true of the ULC, for both the couples and the ministers. Congratulations on a beautiful day and a monumental occasion.
If you want to perform weddings of any kind, gay or straight, please visit our website to become a minister online.