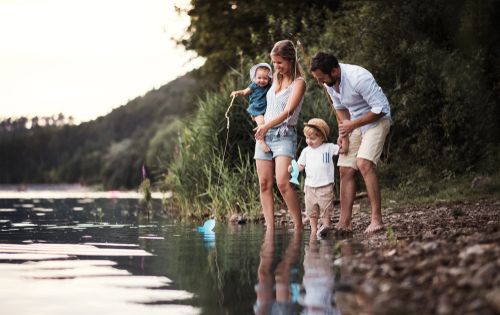 The COVID-19 vaccines have brought considerable relief to many people who have felt isolated during the pandemic. Those keeping up with CDC recommendations  are seeing more of their favorite activities return as they receive their vaccinations. For families whose children are either not yet eligible or haven't quite reached full vaccination status in time for the start of their well-deserved summer break, though, celebration may feel a little premature.
That doesn't mean they have to remain cooped up inside while it seems the whole world is going back to normal, however. There are plenty of activities that still give participants a way to enjoy the beautiful summer weather while maintaining the social distance that fits within their comfort zone and keeps their family members safe.
Explore Nature
Paying attention to the natural beauty that surrounds you is a great way to help your family have a great summer. You probably don't even have to go very far to do so. Chances are, there are things you can do right in your backyard or in a nearby park:
Have a picnic
Fly a kite
Start a water gun fight
Walk or ride bikes around the neighborhood
Play basketball or other games
Many state and national parks also offer great opportunities for exploring. You can hike the trails, go camping, spend time at the lake or do some stargazing. No matter what your favorite outdoor activities are, you can either find a place close to home or center a fun family trip around them.
Make Art
While camping out at the craft table in the den is fun on cold or rainy days, sunshine beckons the family to venture outside. Your family members don't have to leave their artistic expression inside, though. There are a lot of ways to encourage creativity in a natural setting. Whether the art is temporary or something children can keep forever, it's sure to be a pleasant change.
Go on a walk to collect rocks to paint and add to the garden or flower bed. Create wreaths out of real flowers. A nature walk can lead your family to a wealth of collected objects to add to a shadow box or other type of decoration.
You can even get your community involved while still maintaining safe distances for those who haven't been vaccinated. Throw down a tarp and put up easels with butcher paper. Then invite everyone to use washable paint to create their own masterpieces. Drawing with sidewalk chalk gives children a wider canvas that they can share with others. Make a post in your neighborhood's online group or post fliers announcing that they are welcome to come add their art to your sidewalk mural one Saturday. 
Help Others
Taking care of your community is a great way to teach children responsibility that extends beyond your home. You can participate in a walk or a run to raise money for your favorite charity, even if you wear a mask while doing it. Organize a car wash to raise money, or collect cans for your local food bank. Volunteer as a family to walk dogs at a local animal shelter every week. Even picking up trash as you explore has a positive impact on the world around you. Find something that reminds your children of the importance of caring for those in your orbit.
It can be hard to hear about fun things others are getting to do while still maintaining social distance yourself. Your family with young children can still get a lot of enjoyment out of summer, though. Embracing fun and safe outdoor activities is a great way to relax and refresh before school starts again in the fall.