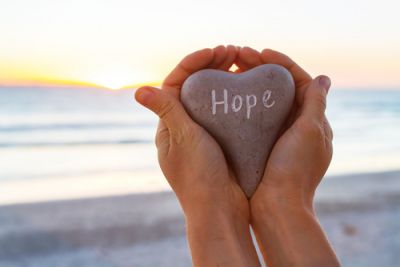 The final three virtues that we'll be discussing are faith, hope and charity, considered theological virtues. These virtues are mentioned together in 1 Corinthians 13: "And now faith, hope, and love abide, these three; and the greatest of these is love." It's difficult to talk about faith and hope separately, because faith is the intellectual function while hope is the act of the will. Hope is somewhere between desire and expectation.
Hope sustains people when life gets rough. Hebrews 6:19 defines hope as an "anchor for the soul." Although this is from the Christian tradition, it's a beautiful metaphor that anyone could use regardless of faith. Desmond Tutu said, "Hope is being able to see that there is light despite all of the darkness." Even in the dead of night, we know that the sun will rise in the morning to provide light and heat.
In some ways, hope is the opposite of despair. Desmond Tutu fought apartheid for decades before it was abolished in South Africa. He never gave up fighting for civil rights in his home country.
Hope in Culture
Greek mythology has a story in which Zeus created a box that included all types of evil. Pandora opens the box and releases plagues, diseases and other spirits that torment mankind. With Zeus' help, hope remained in the box. Elpis is the personification of hope, helping people bear times of suffering and loss.
During the 19th century, Europeans questioned hope. The Long Depression in the 1870s wrecked the economy in Western Europe. Confidence in the future was low. George Frederic Watts, a painter associated with the Symbolist movement, created a work called "Hope," in which a blindfolded woman sits on a globe, playing a lute with a single string. It's a painting almost devoid of color. The background is dark, except for a lone star. This painting influenced Jeremiah Wright, who in turn influenced President Barack Obama. Obama's 2006 book was titled "The Audacity of Hope."
Emily Dickinson penned a poem called "Hope Is the Thing With Feathers." She compares hope to a bird that flies within her, offering encouragement during dark times. It's a short poem that you may want to read through to get the full effect.
Probably the most classic reference to hope is the line "hope springs eternal," from Alexander Pope's "Essay on Man." This phrase means that it's natural to want to be optimistic. Think about other sayings that mean the same thing, such as "never say die" or "tomorrow is another day." It's what Scarlett O'Hara says in "Gone With the Wind" as she stands amid the ashes of Tara. Although the Civil War has decimated the South, the movie-goer is left with hope that society will rebuild.
Hope is often symbolized as a swallow, because the swallow is one of the first birds that appears at the end of winter. A dove also symbolizes hope, as does an anchor. Watts' painting "Hope" used non-traditional symbols of hope and that might have made it more remarkable during its time.
One of the best children's books on hope is "The Little Engine That Could." Hopeful people keep telling themselves "I think I can." Hope helps most when it's based on realistic outcomes.
Hope in Scripture
Christianity has long held that hope is a virtue. It's the expectation of good, even through the darkest moments. Both Old and New Testament writers spoke of hope dozens of times throughout the Bible.
Jeremiah 29:11: "For I know the thoughts that I think toward you, says the Lord, thoughts of peace and not of evil, to give you a future and a hope."
Isaiah 40:31: "But those who wait on the Lord shall renew their strength; they shall mount up with wings like eagles. They shall run and not be weary, they shall walk and not faint."
Romans 15:13: "Now may the God of hope fill you with all joy and peace in believing, that you may abound in hope by the power of the Holy Spirit."
Colossians 1:27: "To them God willed to make known what are the riches of the glory of this mystery among the Gentiles: which is Christ in you, the hope of glory."
Hope is what keeps you going when you get discouraged. Make hope part of your daily mindset for it to be the most helpful. Hope isn't false optimism, but a proactive theory that you can improve your situation.