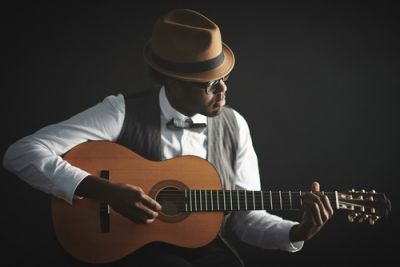 February is Black History Month. Get out your streaming app and find some new tunes to listen to this month to appreciate the people who changed the music industry.
Mamie Smith
Mamie Smith recorded the first blues song by an African-American. Even though the blues were created by black musicians, prior to 1920, all the recordings were done by white musicians. She changed history and opened the door for black musicians across the country. Her first songs were a commercial success, but "Crazy Blues" is the one that was inducted into the Grammy Hall of Fame for its historical significance. Don't listen to it with today's standards. Consider the era.
Sister Rosetta Tharpe
Tharpe is often called the "Godmother of rock and roll" for her influence over Johnny Cash, Elvis Presley, Chuck Barry and Jerry Lee Lewis, the pioneers of rock and roll. She also influenced British blues through her use of heavy distortion on her electric guitar. "Down by the Riverside" is on the National Recording Registry in the US Library of Congress as one of her best hits. She was a gospel singer who changed the sound of today's music.
Miriam Makeba
This United Nations goodwill ambassador is an African singer-songwriter who rose to international acclaim. You might know her better as Mama Africa, so-called for bringing African music to the Western world. She lost her right to return to South Africa for making songs critical of apartheid. Makeba was an activist involved in the civil rights movement in America. Her music helped shape soul music. She not only was influential in music, she was also awarded the Dag Hammarskjöld Peace Prize and the Otto Hahn Peace Medal in Gold for her activism. Look for her album "An Evening with Belafonte/Makeba" for some of her best work.
Count Basie
Count Basie is a legend in blues and swing music, but his claim to fame is breaking barriers at the Grammys. He was the first African-American man to win a Grammy. He and his band would go on to win eight more. In 2002, he earned a Grammy Lifetime Achievement Award. Take some time today and listen to some of his music that earned him Grammy Hall of Fame Awards, including "April in Paris," "One O'Clock Jump," and "Everyday (I Have the Blues)."
Marion Anderson
Anderson came into the spotlight when the Daughters of the American Revolution (DAR) refused to let her sing in Constitution Hall. First Lady Eleanor Roosevelt resigned from the DAR over the incident and arranged an open-air concert on the steps of the Lincoln Memorial. Anderson's race was at issue, even though she was a critically acclaimed, international performer. Anderson was the first African-American artist invited to perform at the White House.
Dean Dixon
Dean Dixon was the first African-American conductor of the New York Philharmonic Orchestra. It was 1941, and he had been finding it difficult to get conducting engagements even though he had studied at Juilliard School and Columbia University. Dixon would find much more success in other countries. He directed the Israel Philharmonic Orchestra, Sydney Symphony Orchestra and Gothenburg Symphony (Sweden).
Gladys Bentley
During the 1920s, Bentley made her mark in New York as a black, lesbian, cross-dressing blues singer and was part of the Harlem Renaissance. She was just 16 when she came to NYC and later started working at Harry Hansberry's Clam House, a gay speakeasy, performing in men's attire. Bentley was a great performer with the ability to play piano, sing and entertain. She didn't hide her relationships. At the time, it was considered quite risqué. When Prohibition was repealed, the speakeasies declined. She moved to California, but never had the same success outside of NYC. She was a groundbreaker for both the LGBT community and African-Americans.
These artists were pioneers and giants in the music industry, and they paved the way for generations of future musicians. For Black History Month, take some time to listen to the songs of these great artists.