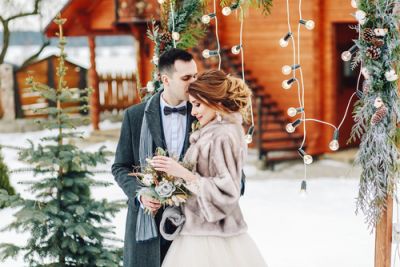 The weather outside may be frightful during winter in most parts of the country, but love blooms in any kind of weather. And your winter wedding can likewise blossom if you just put a little extra thought into it and take a few extra precautions. Here are the top seven tips to ensure that your winter wedding will be one that both you and your guests will remember forever with smiles, not shivers.
1. Have Just One Venue
Given that no one can predict the weather accurately, especially during the winter, you will do yourself and your guests a huge favor if you have your winter wedding and reception at the same venue. This will ensure that once everyone gets there for your wedding, they won't have to worry about going somewhere else, possibly in the middle of a blizzard, for your reception.
2. Ensure Safety
Snow and ice are not your friends. Nor are they the friends of anyone wearing high heels, confined to a wheelchair, or unsteady on their feet due to age or illness. Make sure that the parking lot, sidewalks, entryways, and everything else are not only thoroughly shoveled but also salted, sanded, or otherwise completely free of ice and snow. If at all possible, this should be done sufficiently ahead of your big event so that all surfaces will be as dry as can be.
3. Have a Designated Coat Check
It goes without saying that all but the bravest souls will arrive at your winter wedding wearing heavy winter coats over whatever they have on underneath. Therefore you should have a secure coat check area or room immediately inside the front door, complete with an attendant who will give each guest his or her own claim check and watch over the area during your wedding and reception to ensure that the proper coat goes to the proper person and no one else.
4. Make Your Guests Immediately Comfortable
Next to your coat check, have a hospitality area where guests can get a hot cup of coffee, tea, hot chocolate, and/or cider. These should be nonalcoholic drinks that simply allow guests to warm up but not begin indulging prior to your wedding.
5. Pay Special Attention to Lighting
Don't forget that the days are considerably shorter in the winter than they are in the summer. In addition, cloudy and overcast skies tend to be the norm, not the exception. Consequently, you need to carefully assess your interior lighting. You can't rely on huge windows to bring in the sun, as the sun may not be shining on your special day. Your lighting should be sufficient for everyone to easily see, not to mention allow your photographer to get good pictures, but not so bright that it "blinds" your guests and results in washed-out photographs.
6. Keep the Bridal Party Warm
Winter probably is not the best time for you and your bridesmaids to wear sleeveless dresses. Who wants to be covered in goose bumps and shivering during the wedding ceremony? If you simply cannot bring yourself to go with long-sleeved dresses, consider adding faux fur stoles or other accessories guaranteed to keep you and your attendants toasty throughout.
7. Wear Winter Fabrics
Just because it's winter doesn't mean that your wedding dress, your bridesmaids' dresses, and your groom and groomsmen have to forego elegance and fashion. In fact, winter fabrics are some of the most elegant ones of all. Take velvet, for example. Whether used for your dress, your bridesmaids' dresses, or your groom and his groomsmen, velvet is not only elegant to the max but also warm and cozy. Other good winter fabric choices include silk, brocade, satin, taffeta, pique, and moiré.
By following these seven tips, your winter wedding and reception will be warm and lovely. You and your guests will stay cozy no matter what Old Man Winter is doing outside.