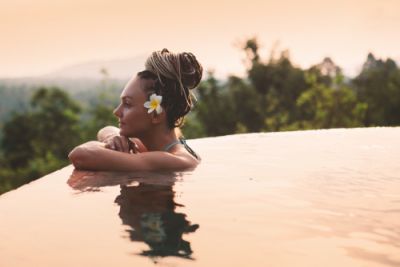 Summer might be almost over, but it's never too late to plan a vacation to take a spiritual retreat. Meditation and nature go together like peanut butter and jelly. You'll experience the benefits of meditation while spending time in a gorgeous setting. Most of these places offer meals and other amenities, leaving you time to really rejuvenate while you're unplugged from your reality.
Southern Dharma Retreat Center, Hot Springs, NC
This center near Asheville, North Carolina, has been offering retreats for more than 40 years. The mountain environment gets you away from your everyday life. You'll find quite a few choices, as the center offers more than 25 weekend retreats each year as well as day options. The best part is that the retreats are affordable. If fees are still an issue, check out the center's scholarships and fellowships.
Shambhala Mountain Center, Red Feather Lakes, Colorado
This serene retreat center high in the Rockies comes with all the modern amenities that make your life easier. It offers options for accommodations, from private rooms to shared dormitories to seasonal tents. All are welcome to enjoy nature and meditation. In the winter, use the hiking trails for snowshoeing to get a winter workout. Meal options include meat, vegetarian and vegan options.
Siddhayatan Tirth, Wisdom, Texas
This affordable center northeast of Dallas offers yoga programs, a children's camp and different types of spiritual retreats. You can go for a silent weekend or attend the PTSD healing retreat. You can even bring your teenager to help your child learn to live with purpose and without stress and get a discount on his or her program. The setting is beautiful. This center offers vegetarian meals with vegan and gluten-free options.
Rolling Meadows Retreat, Brooks, Maine
Although this center only offers retreats from May through November, the coastal atmosphere will rejuvenate your soul. Small groups participate in silent meditation or yoga for a weekend or longer, giving you an intimate experience while enjoying a nature center of over 100 acres. These retreats include lodging and meals with vegetarian options. The center also hosts international retreats around the world.
Spirit Rock Meditation Center, Woodacre, California
Spirit Rock is known for its affordability, as programs are priced on a sliding scale. It also has a scholarship and volunteer program. You can stay for two hours or two months. Most retreats are silent, without distractions such as reading, writing or electronic devices. Participants are encouraged to live in the present to clear the mind and quiet the body. You're also given the opportunity to walk, rest, work and speak to the teachers. There are multiple options timewise, such as drop-in, residential, commuter and more.
Stillpoint Lodge, Halibut Cove, Alaska
This option might be a splurge vacation, as it's not inexpensive. However, the wellness retreat offers hiking, kayaking, yoga, massage and more while you're staying there. You get fresh, organic meals, and the staff packs lunches for day trips. Private airport transfer is included in the cost. The amenities at the resort include a library, lounge, Zen garden, hot tub and more. Eco-tours are included in the price. You just show up and let the lodge handle the itinerary.
The Raj Ayurveda Health Spa, Fairfield, Iowa
Billed as "America's Premiere Ayurvedic Health Center for Full Life Transformation," this retreat has multiple treatment options for chronic disorders or stress and anxiety. The center only accepts 15 guests at a time for a boutique experience. Programs are customized for each person using a holistic and organic approach. You can enjoy spa activities or yoga or get out in nature in the extensive garden.
Plan a Retreat for Your Mental Health
If you can, take a trip to one of these excellent retreats. However, even if you can't, you can take time to slow down and make your life matter.