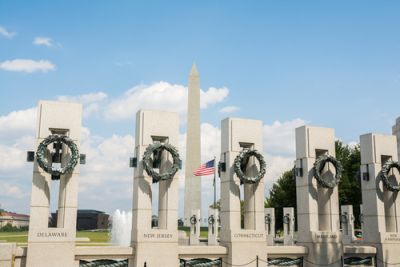 World War II can be a difficult time frame to understand historically. The reasons the war began were complex and not limited to one country. Nazi ideology can be difficult to explain to children, but it's important to recognize that the next generation needs to understand history. May 8 and 9 are designated by the United Nations as a Time of Remembrance and Reconciliation for Those Who Lost Their Lives during the Second World War. May 8 is recognized as VE Day or Victory in Europe.
Here are seven books about World War II and its aftermath to help give children a sense of what happened in words they can understand.
"The War That Saved My Life" by Kimberly Brubaker Bradley
This Newbery Honor Book tells the story of a young girl in London who lived under the threat of the war. Ada, the 10-year-old heroine, runs away with her brother, who has been sent away for his protection. Ada was forced to stay inside in her London home because she has a clubfoot. When she finds a protector in Kent, she ventures out into the world. Recommended for ages 12 and up.
"When My Name Was Keoko" by Linda Sue Park
Although this book is about the Japanese side of the war, it is a great exploration of how people around the world were affected. Park is a Newbery Medal winner who lived in Korea during the Japanese occupation. She draws on her own experiences in this book, which features a brother and sister acting as narrators. It's a unique look at both the male and female experience during this time in history. Recommended for middle grades and up.
"Milkweed" by Jerry Spinelli
A Polish orphan is the hero and narrator of this story set in Warsaw during the war. He wants to be a Nazi, because of the shiny jackboots and crisp uniforms. When the trains come to take away the Jews, he realizes that anonymity is the safest bet. Seeing the Holocaust through the eyes of this innocent youth is remarkable. Recommended for kids 12 and older.
"Who Were the Tuskegee Airmen?" by Sherri L. Smith
The first African American military flight program graduated these brave men who paved the way for integration in the US armed forces. This novel, written for grades 3 through 7, tells the story of heroic pilots who were instrumental in winning World War II. Your kids will learn about some of the missions that the Tuskegee Airmen underwent and how much training the pilots received to undertake those missions.
"What Was D-Day?" by Patricia Brennan Demuth
This book is part of the same series as "Who were the Tuskegee Airmen?" It's about the largest seaborne invasion in history that leaders hoped would end the war. Although it is an intense point in history, it's also been hailed as one of the greatest military attacks ever. The men who died on D-Day deserve to be remembered with honor.
"Letters From the Lighthouse" by Emma Carroll
This 2017 novel for middle grades and up is about a brother and sister who are evacuated from London to live on the coast in a lighthouse. Their older sister has disappeared, and they think she might be a spy. It's an emotional story of the war and how it touches everyone around you.
"Crow Call" by Lois Lowry
Lowry is an acclaimed author who has written many wonderful books for children grades 3 and up. "Crow Call" is a unique book about World War II because it's set in Pennsylvania, rather than overseas. Lowry draws on her own experience of having a father who was fighting the war. It's a timeless story of a father-daughter relationship spanning thousands of miles and many years.
Make Reading Bonding Time
Share a book with your child this month to enjoy learning together. These books will make it easier to put down your electronic device and have some time with each other.