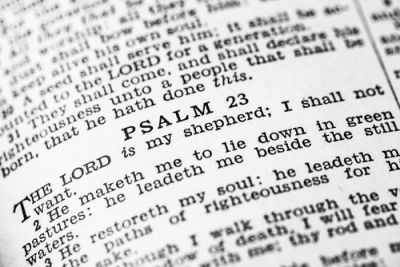 Even though National Poetry Month has come and gone, let's take a look at the Psalms. Most scholars consider Job, Psalms, Proverbs, Ecclesiastes and Song of Solomon poetic books. The Psalms are some of the most lyrical and emotional scriptures in the Bible. Tradition says that King David wrote many of the Psalms, but that is debated in modern times. Take some time to read some of these Psalms, not only to find comfort but to recognize them in literature and music.
Psalm 23
One of the most recognized verses in the Bible is Psalm 23:1, which says, "The Lord is my shepherd, I shall not want." This verse is often used at funerals to give comfort to the family. It's a popular theme in music. Bach, Schubert and Dvořák are just three of the composers who based works on Psalm 23. More recently, Pink Floyd, U2, Kanye West and Megadeth have all written songs that used phrases from the Psalm.
Psalm 121
The first line of Psalm 121 is, "I will lift up mine eyes unto the hills: from whence cometh my help." It's thought that this Psalm was sung by travelers who were making their way to Jerusalem among the mountains of Judea. Today, it's often used as a traveler's song and quoted on monuments in mountains.
Psalm 46
Martin Luther's "A Mighty Fortress Is Our God" is a paraphrase of Psalm 46. The opening verse is, "God is our refuge and strength, a very present help in trouble." President Obama referenced the scripture when he spoke at the 10th anniversary of the 9/11 attacks. This Psalm has inspired many other musical works, from classical artists to contemporary musicians.
Psalm 27
"The Lord is my light and my salvation— whom shall I fear? The Lord is the stronghold of my life— of whom shall I be afraid?"
The first verse of this Psalm is often recited by Christians in times of trouble. It's a common phrase, and in the Catholic Church it is often used as a response at Mass.
Psalm 103
Several hymns are based on Psalm 103, which begins, "Bless the Lord, O my soul." Many people are familiar with the phrase, "As the distance of east from west, He distanced our transgressions from us," which comes from this Psalm. One of the songs in "Godspell" uses this Psalm.
Psalm 100
This song of Thanksgiving is considered one of the most important Psalms. Its opening scripture reads, "Make a joyful noise unto the Lord, all ye lands." It is often used as a morning prayer in the Anglican Church, and it has been set to music for evening services. In 1660, it was used in honor of a peace treaty between France and Spain.
Psalm 119
This Psalm is the longest chapter in the Bible, with 176 verses. Verse 105 is probably the most well-known, "Your word is a lamp for my feet, a light on my path." The poem has an acrostic structure. In the Hebrew text, it's divided into 22 stanzas, with one stanza for each character of the Hebrew alphabet. Its framework is quite elaborate. Tradition suggests that King David might have used the Psalm to teach his son the alphabet.
Amy Grant used the phrase from verse 105 as a basis for one of her popular songs. The hymn "Open My Eyes, That I May See" by Clara Scott was inspired by verse 18.
Read to Understand References
The Book of Psalms is often referenced in literature and music. Individual Psalms are beautiful poetry that resonate with people today. Jews and Christians still use the Psalms in worship, and the Psalms are important to the Rastafari movement. Appreciate the poetry of the Bible by exploring the Psalms.