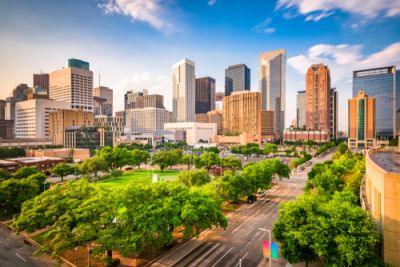 Houston is making headlines after former President George H. W. Bush died. His body will lie in repose at St. Martin's Episcopal Church, which is reportedly the largest Episcopal congregation in North America. St. Martin's is not an old church. It was founded in 1952 and started with 25 members. By 2002, at its 50th anniversary, it boasted over 7,000 members. In 2015, it added its 9,000th baptized member. It's a modern church that offers tours at dedicated times through the month. If you can catch one of its organ recitals, you should. The music ministry at St. Martin's is exemplary.
Houston may bring to mind a cowboy culture, but according to WalletHub, Houston is the No. 2 most diverse city in the United States. Houston's museum district has over 20 galleries, cultural centers and museums where you can explore the local art scene and different traditions from around the world. If you find yourself in the Houston area, you'll want to make sure to check out these places.
Houston Museum of African American Culture
General admission to this museum is always free, but donations are accepted. HMAAC has a vision in which people share their histories and cultures while acknowledging the African American experience and building a better future. It's a place where people can help find remedies for the social inequalities and racial discord that have impacted people of all colors.
Children's Museum of Houston
Parents Magazine rated this museum as "America's No. 1 Children's Museum." It's one of the top attractions in the Houston area. It bills itself as a "playground for the mind" and features activities to help kids learn about culture, science and the world. Just don't tell them it's educational. In the EcoStation, kids can explore environmental issues and learn about their impact on nature. Kidtropolis lets children run their own city.
Czech Center Museum Houston
This non-biased, non-political and non-religious center promotes the history of the Czechs. It's a museum and event center. Through the holidays, the museum is hosting a number of special activities, such as making Czech ornaments and a Christmas market. Admission is free on the last Monday of the month. Check their calendar for movies that focus on the Czech experience.
Holocaust Museum Houston
This museum is currently expanding, and as of this writing it is in a temporary home. The permanent exhibit is due to open in Spring 2019. They'll have double the space, which will allow them to present many more artifacts and stories of the Jewish experience. The museum isn't recommended for children under 10. It is a moving experience that will forever change you, but some of the pictures may be graphic.
Rothko Chapel
The Rothko Chapel is a sacred place open to everyone of any belief. It's a meditative environment that welcomes over 60,000 visitors each year. It hopes to inspire people through art and meditation. Mark Rothko, American painter of murals, inspired the place, but it was founded by Houston philanthropists. It's always free to explore. You'll want to check the calendar for special events, such as the Annual Rev. Dr. Martin Luther King, Jr. Birthday Celebration, which may be moved this year as the chapel is undergoing renovations.
The Museum of Fine Arts
This museum offers free general admission on Thursdays to everyone. It also has some special deals for college students, teachers, military personnel and children. It has a vast collection of art from around the world. One exhibit you won't want to miss is the collection of art of the Islamic worlds. In 2015, the museum expanded the display of Islamic art into two new galleries. The collection includes pieces dating back to the seventh century. It will give you a new perspective on Middle East culture.
Houston has a rich history and vibrant culture, so check out these wonderful places to learn more and expand your worldview.