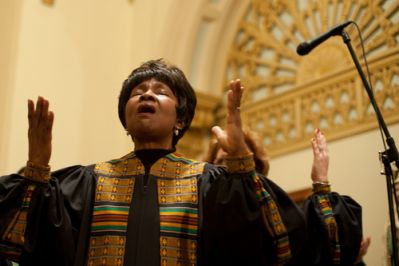 Like so many other churches, the black church in America has always been a patriarchy. Dating clear black to the days of slavery, the black church represented virtually the only place where black men could — and did — get the respect they deserved and achieve the authority they so fervently desired.
Unfortunately, however, black women never quite did, and have not fared so well within the black church. Few have ever been placed in leadership roles, and many have not only been disrespected by their male pastors but actually abused by them. Reverend Najwna Smith-Pollard, a female black pastor and the program manager at the USC Cecil Murray Center for Community Engagement at the University of Southern California's Center for Religion and Civic Culture, is leading the fight to change all that.
Women in the Black Church
Traditionally, women have formed the backbone of the black church despite the treatment they received therein. Women have by far outnumbered men when it comes to such things as the amount of time or money donated. In addition, a black woman is far more likely than a black man to say that the church constitutes the central pillar of her life. In other words, if you wanted a successful black church, you needed to leave it up to its women to give you one.
But what did black women get for all their efforts on behalf of their respective churches? Far too many of them got disrespect, hostility, and sexually implicit or explicit words and actions from their pastors. Few got mentoring, and even fewer actually got ordained as elders or pastors.
Smith-Pollard says she finds herself in the position of having to constantly educate male pastors on how to treat such female pastors as exist today. This starts with how they address them. Her first piece of advice, she says, is to tell them that "[S]he's not your baby, she's not your boo, she's not your sweetie-pie. She needs to be Reverend or Elder or Minister or Miss." You wouldn't think that such basic and obvious advice would be necessary in 2019, but evidently it still is.
The #ChurchToo Movement
Smith-Pollard admits that the young #ChurchToo movement aids her and other women seeking to achieve gender equality within the black church. Begun on social media, #ChurchToo, like its predecessor #MeToo, encourages women to come forward to report and discuss the sexual harassment, abuse, and assault they have experienced, this time within the church.
The #ChurchToo movement doesn't just focus on the black church. Rather, it has taken on whatever churches, black or white, have been guilty of abuses against women. It's had some resounding successes, too. Just last year, #ChurchToo efforts resulted in the resignation of Bill Hybels, founding pastor of the 25,000-member nondenominational Chicago megachurch Willow Creek Community Church, along with his entire leadership team, after allegations of sexual abuse of women congregants and the church's five-year blind eye to it came to light via reports in the Chicago Tribune and Christianity Today.
Of note is the fact that Hybels has been a highly influential, not to mention high-profile, member of the religious community for decades, having served as President Bill Clinton's spiritual advisor in the 1990s. He's also written and published several books on church leadership and established the Global Leadership Conference, an annual two-day meeting of church leaders nationwide.
Black Church Hindrances
According to Smith-Pollard, however, black women have even less incentive than white women to allege sexual misconduct against their pastors and other men within the church. Not only do they fear that they won't be believed, but most are loath to bring any kind of sexual misconduct complaint against men who serve as spiritual leaders.
She hopes to change that. Last year she spearheaded a successful conference of female black clergy in the Los Angeles area where women shared their sexual misconduct and abuse experiences with each other. Smith-Pollard envisions making this an annual conference to which male clergy will likewise be invited.