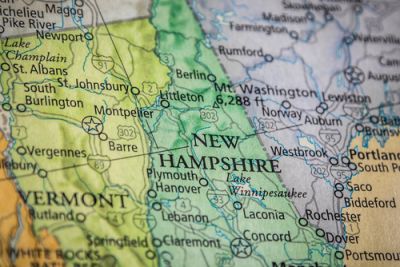 As one of the original 13 colonies, New Hampshire is the fifth-smallest state in the country. It's known for skiing and other winter sports, fall foliage and summer cottages. New Hampshire is home to Dartmouth College and the first primary in the presidential election cycle. Daniel Webster represented New Hampshire in the Senate before and after serving as secretary of state. Franklin Pierce, the 14th president was born in New Hampshire.
The people of New Hampshire are less likely to attend religious service than most Americans. In fact, only 54 percent of residents believe that they are certain there is a God. Nationally, that figure is 71 percent. Still, the state has some beautiful and historic churches that will help you understand how religion was such an important part of the early colonists' lives.
North Church, Portsmouth
This church has over 300 years of history. The congregation began as a Congregational Church in 1641 but wasn't formally organized until 1671. The current building was constructed in 1854 and renovated in 1978. Its steeple is visible to most of the city. The architecture is classical with an Italianate edifice. Daniel Webster was one of its more prominent members. Today, it's a member of the United Church of Christ denomination, but it's still a landmark in the town.
Mary Baker Eddy Historic Houses
Eddy is the founder of Christian Science. She spent many years in New Hampshire. The homes where she lived are historic sites where you can learn more about her life. She spent five years in a small cottage in North Groton. Her son had been sent to North Groton to live with a family because Eddy's health was precarious. She moved to a cottage to be close to him, but the family he was living with moved to the West. She was told that the boy wandered off and was lost. It was here that she had her "first discovery of the Science of Mind."
Eddy and her husband moved to Rumney after living in North Groton. It was 1860. The Civil War had completely divided the country, but Eddy's son was alive in the Union army. He sent her a letter and they reconnected. Unfortunately, her second husband was captured and imprisoned by the Confederate army when he was carrying funds to Union sympathizers. He escaped and returned to her. The home Eddy lived in during these two short years has been renovated to reflect her life.
Eddy spent many years in Massachusetts after the war, but in 1889, she rented a house in Concord for her and her staff. She was almost 70 but was now renowned as the leader of Christian Science. The home is designed in the style of Greek Revival. It was renovated by the Longyear Museum to appear as Eddy might have known it.
Canterbury Shaker Village
This site is a National Historic Landmark. It was established in 1792 by the Shakers. In 1992, the last Shaker sister in residence passed away. At one time, in the mid-1800s, over 300 people lived, worked and practiced their religion here. The group was formally known as the United Society of Believers. Many of the people in the society were Quakers. They became known as Shakers because they danced in worship.
Ste. Marie Church, Manchester
Concord might be the capital of New Hampshire, but Manchester is its largest city. One of the most prominent churches is Ste. Marie, with its steeple that can be seen around the city. The church was founded to serve French Catholic immigrants in the community. Its Gothic Revival style is a focal point in the neighborhood. The church was founded in 1880 and is still going strong today.