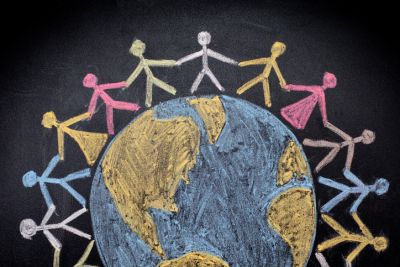 Pope Francis, His Holiness the Dalai Lama, Rabbi Abraham Skorka, Bahia Sahib Mohinder Singh and many other prominent world faith leaders came together to issue a statement asking everyone to reach across religions to #MakeFriends. The full statements are available at youtube.com/MakeFriends, but here is a sampling of what these prominent people had to say:
"I would say to everyone: Start with sharing what we all share . . . which is the pleasure of conversation." Archbishop Justin Welby, senior bishop of the Church of England
"One of the wonderful things of spending time with people completely unlike you is you discover how much you have in common. The same fears, the same hopes, the same concerns." Chief Rabbi Jonathan Sacks, United Hebrew Congregations of the Commonwealth (1991 to 2013)
"I think I'll keep it very simple. It's probably time to talk less, listen more." Ven. Khandro Rinpoche, lama of Tibetan Buddhism
"It's very important, because my religious life became richer with his explanations, so much richer." Pope Francis, the Current Pope of the Catholic Church and sovereign of Vatican City
This project was sponsored by the Elijah Interfaith Institute, an organization that "seeks to create a community of religious leaders, scholars and practitioners from all faiths, who are inspired to find novel ways of sharing the wisdom of their traditions with each other and to create bridges between faith and society." The religious leaders involved come from Judaism, Islam, Christianity, Sikhism, Buddhism and more.
This group has offices in Jerusalem and in Dallas, Texas, but its mission is international. The current initiative is about reaching out across religious lines, but the organization has many more resources for learning about religions from different perspectives. "All religions are challenged to reconsider their views of other world religions in the context of the changing landscape of interreligious relations and of the world at large."
Elijah's motto is "Sharing Wisdom, Fostering Peace." A quick browse through its pages reveals hundreds of essays and videos from leading scholars of religion explaining theology of their individual faiths. The organization has put together toolkits for study to inspire communities to bridge relationships and divisions across religious lines.
Who Are the Religious Figures in the Video?
The religious leaders that have come together for Elijah are not new to the message of bridging gaps across theologies.
Grand Mufti Shawki Allam, the 19th and current Grand Mufti of Egypt, is the government's primary source of religious authority. He does not have political allegiances and renounces fanaticism.
Ecumenical Patriarch Bartholomew I, the figurehead for Orthodox Christians since 1991, has promoted a message of Christian reconciliation and interfaith tolerance since he ascended to the Ecumenical Throne.
Swami Chidananda, the spiritual head of Parmarth Niketan Ashram, Rishikesh, is also the co-founder of the Global Interfaith WASH alliance, a group that provides clean water to children. Some of his other projects are an Encyclopedia of Hinduism, medical clinics, free schools and women's vocational training programs in India.
Archbishop Antje Jackelén, the first female Archbishop of the Church of Sweden, became the first woman and archbishop to have an official audience with Pope Francis. She has promoted an ecumenical commemoration of the Protestant Reformation.
Ayatollah Sayyid Fadhel Al-Milani descends from Ayatolians from both his mother's and father's lineage. He has more than 50 years of experience teaching Islam around the world. His six-volume work on "Ijtihad" is still the authoritative text on Mashhad and Qum.
Rabbi Abraham Skorka, is a chemist and rector of the Seminario Rabínico Latinoamericano Marshall T. Meyer, a center for training Jewish rabbis, cantors and educators. He enjoys a close relationship with Pope Francis. The two have coauthored a book on interfaith dialogue, which has been translated into English and Spanish.
If these leaders can come together to dialogue and work together, just think what smaller communities can do when people get together to bring down religious barriers.