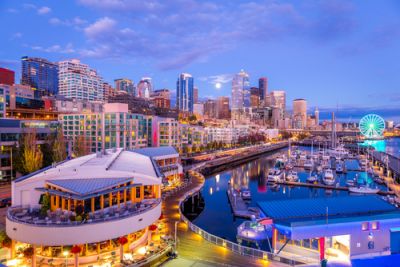 In 2016, the Public Religion Research Institute reported that according to their research, Seattle, WA, tied with Portland, OR, and San Francisco, CA, as the least religious cities in the United States. Although Seattle is home to many non-religious people, faith and culture are important to the people in Washington state. Here are eight places to visit when you're in Seattle to learn more about how religion shapes culture.
Burke Museum
Current exhibits at Burke Museum include Pacific Voices, which includes art and culture from 17 ethnic communities from the peoples of the Pacific Rim. Learn about a Korean wedding and Native American masked ceremonies from artists and storytellers who have been immersed in their own culture. Another exhibit explores evolution and "the great family tree that connects all living things."
Betsuin Buddhist Temple
This Seattle temple began in 1901 when the first Buddhist service in the Pacific Northwest was held. The temple is registered in the National Register of Historic Places as part of the Chinatown historic district. It's a busy place with an active congregation. Its mission is "to promote, protect and share the Buddha, Dharma and Sangha."
Sakya Monastery
The mission and purpose of this monastery "is to share and preserver Tibetan Buddhism and Tibetan culture." However, it bills itself as non-sectarian, hosting visits and teachings from all schools of Tibetan Buddhism. Monks do live there, but it is a community of many Buddhist practitioners. It is a renovated home in the Greenwood neighborhood.
Nordic Museum
The Nordic community was highly influential to the culture of the northern states. The museum has a collection of more than 77,000 artifacts that explore the life and history of what the Nordic people brought to America. Check their calendar for some interesting classes and events, such as ornamental woodcarving or the Viking Days festival.
Daybreak Star Cultural Center
This cultural center is an urban nucleus of Native American activity. Not only does it feature an art gallery, it also acts as a conference and wedding center and a location for pow wows. And it has a Head Start program on-site. The Sacred Circle Gallery hosts exhibits of contemporary and traditional artist from across the United States. It also has a permanent collection of Native American and Alaskan Native art.
The Unity Museum
This museum bills itself as "A Bahá'í Perspective on Peace." Although the museum focuses on the Bahá'í faith and history, its mission is to bring people together with understanding and appreciation. The exhibits change. You'll often find that it sponsors special speakers from within its faith and outside of the faith. The Bahá'í principles of universal peace and elimination of prejudice have some important lessons for all, whether or not you follow the tenets of the faith.
Wing Luke Asian Museum
The Asian people have also highly influenced American society. At this museum, you can explore the origins of Asian Pacific Americans through art and artifacts that reflect its heritage and culture. Tour Chinatown with a local guide that will help you understand what makes Chinatown in Seattle unique. You might also want to check out the day trip offered by the museum in which you can experience what it was like to be a Japanese day laborer. Make time to explore the museum's vast collection of art and artifacts that give you a glimpse into the past.
Northwest African American Museum
NAAM is 10 years old and offering many special events for its anniversary. One of the special exhibits features the Seattle Chapter of the Black Panther Party, one of the longest running chapters in the nation. Religion and civil rights are closely related. It's important to understand the history of civil rights to prevent history repeating itself.