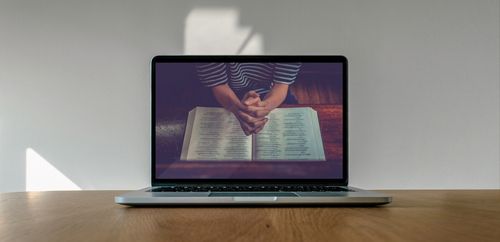 The global pandemic caused by the novel coronavirus has been something of a double-edged sword for religions worldwide. The crisis has caused a spike in religious activity as people turn to it as a source of comfort during this difficult time, but it has also forced churches, temples, and all assortment of holy places to call off regular services and close to the public. The virus has been a catalyst for an increase in religious worship through technology, and it will be interesting to see if the embracement of technology by churches will stick around or even grow to change the face of religions around the world.
Building a Remote Community
Churches have historically served as a center of community for religious followers. As gathering became unsafe during the novel coronavirus pandemic, churches have rushed to adapt in order to maintain a vital sense of being together. Trying to keep up a sense of routine and normalcy has led to a heavy reliance on streaming platforms such as Zoom over the past few weeks.
This can be a divisive issue, as many people applaud the ingenuity of churches for staying together while others argue that remote service lacks the human touch that is a vital part of a religious experience. With no one to respond to the words they are saying, many religious leaders may feel odd speaking to an empty room, and many viewers may find that the experience lacks a personal touch that used to bring the event strength. 
Utilizing the Internet in Other Ways
Besides using technology as a stand-in for regular services, churches across faiths have been taking advantage of the internet as a means of general communication. Online resources such as church websites and social media may have seemed like a nice addition to regular services in the past, but they now serve as a central hub in holding churches together.
One of the most pressing issues facing many churches is a lack of funding caused by a drop in donations that would usually have been collected during services. To counter this, some churches may be taking offerings of money from members online. On a similar note, service activities and other projects done by churches may be adjusted to an online format that allows members to contribute to the cause from the safety of their homes. 
Blurring the Lines Between Faiths
One interesting result of the increased use of online resources has been that people of all faiths have, in a way, been brought closer together than they usually would be. It can be interesting to note the parallels in the way faiths of all kinds have handled the COVID-19 situation. The universal nature of the novel coronavirus has led all faiths to face a similar challenge during this time. It can be inspiring to see the ways in which religions of all kinds have remained tight-knit as communities put some of their limited resources back into giving aid to others. 
There are several examples of service projects being done across religions:
Making homemade face masks
Raising money for relief funds through crowdfunding
Posting resources such as prayers and worship plans for families
Changing the Way People Gather
The unique nature of the COVID-19 situation and the uncertainty of how things may develop may lead to more changes and adjustments down the road. The big question a lot of people are asking is whether these changes will cause permanent adjustments in the way churches run or if things will be able to fully return to the way they were before COVID-19 when the pandemic ends. Either way, the virus has shown the wider world that religions of all kinds are able to learn new tricks and take on new approaches to their teachings in order to better serve their followers in times of crisis.