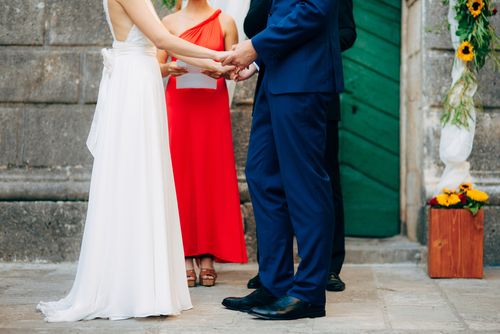 There are several important elements involved in marrying a couple. While you want to put thought behind becoming ordained for wedding officiating duties, you also have to consider the words you use throughout the event. The right speech can bring a crowd together and elevate spirits on a monumental day. Of course, not knowing what you're doing can lead to a mess of complications and awkward silences. Take a look at these tips and learn how you can put together the perfect script for this task.
Get Going Right Away
One tip to keep in mind when considering your wedding ceremony script for ordained minister duties is that you should not push all of the responsibilities to the last minute. If you're waiting until the week of the event to begin crafting your speech, you are going to add a lot of unnecessary pressure to the situation. By getting the ball rolling on this task as early as possible, you will be able to run through the script a few times to make corrections and double-check all included information.
Talk to the Couple
Before you start drafting your speech, consult with the couple about their desires. A speech for a wedding ordained minister is about more than hitting all of the correct marks for this type of event. You also need the speech to feel like an appropriate reflection of the love and affection shared by the couple. By discussing matters with them early, you can use their input and general thoughts to guide the writing process. Should you have any questions or concerns, you can address the points with them directly instead of making any assumptions.
Know About Religious Preferences
Knowing about the couple's religious background is also vital to the process of making a perfect ordained minister wedding ceremony script. The text for a Christian event is going to be different from the words spoken at a Hindu ceremony, for example. Gain some insight into the couple's beliefs and whether they want the ceremony speech to include all of the standard rites and phrases associated with the religion. In many cases, the couple may simply wish you to keep the message general and not lean too heavily on the religious side of things.
Focus on the Tone
The tone of the event will be decided by the couple during your preliminary meeting. What this means is that they will let you know if they want you to keep the ordination ceremony script on the serious side, make it a light and silly affair, or create some combination of both. Once you get an idea of this, you will be able to start reviewing examples of wedding script templates online. Looking at a handful of sample scripts can provide perspective on how different tones call for different words, phrases, and arrangements.
Get Someone To Listen
One final point to keep in mind when seeking script information on wedding ceremonies for ministers is that you will require feedback on the speech before the event itself. There is a huge difference between how words look on paper and how they sound when you read them aloud. Not only should you be reading the speech to yourself, but it can be quite useful to get a friend or relative to listen to the speech for you. Anything that sounds strange will be caught much more easily by doing this.
The process of writing an appropriate ordained minister wedding script isn't one you should rush. As long as you think through your options, you will have an easier time crafting a script that will hit all of the right marks and make the couple feel seen and appreciated.