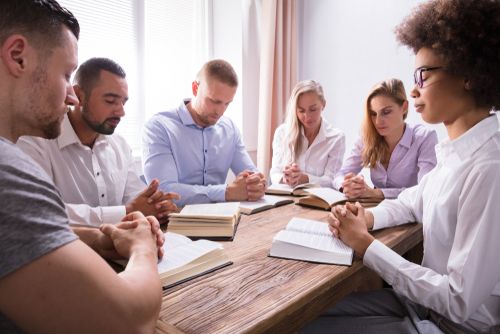 Having new people attend your worship service is exciting. It tells you that people are saying good things about what you are doing or at least that your advertisements are working. If you have been in church leadership for a while, though, you know that many people who visit never return. While you are unlikely to ever retain every guest who walks in the door, there are several practices you can put in place to make a second visit more likely.
Have a Solid Welcome Team
It's good to encourage every member to reach out to new people sitting near them. No matter how friendly your congregation is, though, it is useful to have a group of people who are specifically tasked with talking to visitors. While you don't want to discourage shy members who are looking for ways to get out of their comfort zones, this group needs to be made up predominantly of those who love meeting new people. They can greet people at the door and make a great first impression on everyone who walks through it. They may even get guests to talk about themselves and gauge their interests, which is helpful information for getting them involved if they decide to become members later.
Have Clear Instructions Available
One thing that can deter guests from returning after their first visit is an uncomfortable level of uncertainty. To feel welcome, most people need to understand the majority of what's going on. Ask your newest members to help you brainstorm by listing some of the things they found confusing or surprising the first time they visited. Maybe they didn't understand why you take communion the way you do or whether they were welcome to participate. Perhaps the responsive reading was difficult for them to follow. Take notes and create a welcome packet with a list of frequently asked questions that can help visitors navigate some of the uncharted waters they experience the first time they attend.
Acknowledge Them in the Service
One of the first elements that occurs when the service begins is a welcome. Make a special point to mention those who are visiting with you during this statement. You don't have to actually point them out. In fact, some people really don't like that, so it's likely to backfire. Simply let them know that you are glad they are there and invite them to stick around after the service for coffee hour or whatever is next on the day's agenda. If you notice a lot of new faces, make a mental note to add a little explanation to some of the trickier parts of the service just in case the visitors didn't get a chance to read through their packet yet. There's no bad time to extend a little extra hospitality.
Invite Them To Stay Connected
You never want to let guests walk out the door without an easy way to reach out. A contact card is a great way to gather information about them and if and how they want to connect. It should have a place for the guest's name, mailing address, phone number and email address. Because you don't want to assume that everyone wants to be contacted, it should also include a chance to opt out. You also want to make sure they know that you welcome comments from them. Feedback cards should have plenty of room for expressing interest:
Meeting with or call from the pastor
Addition for the prayer list
Interest in joining the church
You can increase the number of visitors who return by just tweaking a few of your common practices. Find fresh ways to help people feel welcome, and you are likely to gain a few new members.