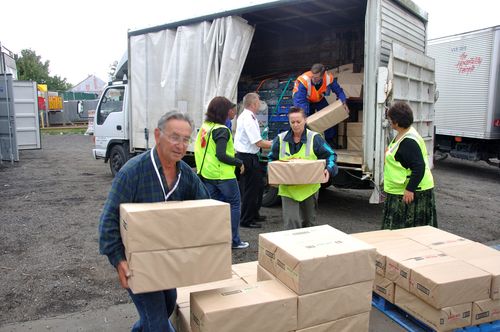 Media broadcasts frequently bring news of natural disasters and other catastrophic events. It is easy to feel helpless as you watch the devastation unfold on your screen. One way to combat this feeling and give aid when it is needed the most is to start a disaster ministry. With a concerned group of like-minded people and a clear plan, you can help those who are hurting.
Gather Team
The first thing you need is a group of people who want to help. Start by inquiring with your church office to see if there is already a procedure in place for finding interested participants. For example, many churches have an email distribution list, and you may be able to submit a request for anyone who wants to volunteer to contact you. The organization may have already identified people who would be a good fit for your team through climate survey results and may be eager to share those contacts with someone willing to step into leadership. If there are no formal procedures for starting a ministry at your church, you may need to reach out to friends in the congregation who have voiced shared concerns in the past. Conversations during the coffee or fellowship hour can also help you find people who want to contribute their time and talents to the cause. Before any work can begin, you must gather a team that is willing to commit to disaster relief efforts.
Set Goals
As with any new ministry you start at your church, your fledgling disaster relief team needs to set and clarify its goals. There are many actions needed when a natural disaster strikes:
Food, water, clothing and shelter for those affected
Additional assistance to the most vulnerable or marginalized of the community who likely suffer a greater impact
Mental health and comfort resources
Long-term recovery support
Community building and restoration
Depending on your particular team's resources and time constraints, you may not be able to have a hand in all of these actions, and that's ok. Many small relief groups become overwhelmed with the magnitude of the need after a catastrophic event, and those feelings can thwart your efforts if you're not careful. The good news is that you are not working alone. No matter what you are trying to do, there is likely an organization that already has a procedure in place for making it happen. Most disaster relief ministries function best by joining in the work of established groups. You just need to decide which work is going to be your niche. By setting clear goals ahead of time, you are better able to maintain focus and contribute something worthwhile.
Request Support
Once you have a list of specific things you want your ministry to accomplish, you are in a position to ask for support from church leadership. You may need financial backing, particularly if your proposed efforts are to involve the ability to travel to disaster sites when necessary. If you are asking for money, be patient when waiting for an answer. These decisions often must go through approval by a finance committee and may even need to win the congregational vote to designate funds to a new ministry. In the meantime, you may be able to get permission to present your plans to the congregation and ask members for their support directly.
When you hear about the latest natural disaster that has wreaked havoc on large groups of people, you may not know what you can do to help. By forming a disaster relief ministry, you can prepare for inevitable issues that arise and be in a position to do something about them. Assemble your team and work with church leadership to make your ministry a success.