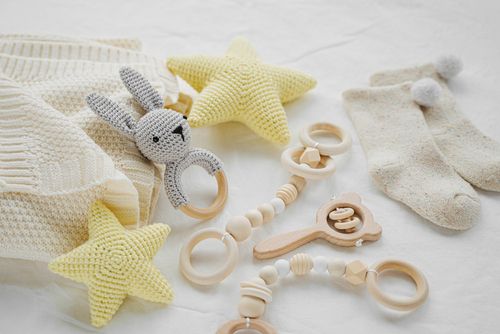 Having a new baby on the way is certainly something to celebrate. Friends and family get excited about this new person who will be joining their lives soon, and they want to shower the parents-to-be with gifts. A baby shower is an organized, fun way to come together to offer them tangible love and support.
While traditional showers are often themed according to the baby's biological sex, there are several reasons why this may not be a good option for everyone. The parents may not decide to learn the sex of the baby before the birth or, even if they know it, may want to avoid ascribing arbitrary gender expectations on their child. Fortunately, there are many ways to throw a baby shower that don't revolve around gender or gender roles.
Choose a Theme
When you think of a theme for a baby shower, your mind may automatically veer toward gendered ideas. The truth, though, is that this is really only one general theme out of many you can choose:
Animals
Circus
Flowers
Science
Nature
The planning process for your party starts with the theme you choose. For example, a bee theme informs your color scheme (yellow or gold), decorations (hives and flowers) and even food (honey-based cakes and snacks). Everything from the invitations to the party favors is easier to decide once you choose an overall theme.
Plan Activities
There's more to most parties than just gathering people together. Baby showers in particular are known for the festive activities involved. There are many different games you can plan, and most of them can easily be gender-neutral activities. After all, all babies will eat the mystery baby food your guests are asked to taste test! This is especially important if the guest list includes people of all genders. When it comes to supporting the expecting parents and surrounding them with their community, gender is likely not one of the most important factors.
Unless your baby shower is a surprise, it's a good idea to include the parents-to-be at least in the idea stage of planning. They may not want to spend the bulk of the time opening and cataloguing each present in front of everyone. They may want to play five games, or they may want to simply relax and enjoy the company of their friends. It's easier to honor their wishes if you ask what those preferences are.
Clarify Gift Protocol
Having a baby is expensive. The medical bills alone can be daunting, but that's just one aspect of the cost of having a child. One of the main reasons to host a baby shower is to ease some of this financial burden by giving new parents items that will be most useful to them, particularly in the first few months. If they have registered for gifts, this process is a cinch. You can include the registry information in the invitation.
It's also a good idea to inform guests about expectations. Some people, particularly those in the parents' family or inner circle, may have already given a gift or planned one at a later time. This is one argument for not opening gifts at the shower. Despite your best intentions, some people may feel uncomfortable having their gift on display in front of everyone. A brief agenda of the party included in the invitation can put these guests at ease and may be the deciding factor in whether or not they choose to attend.
Having a baby is a joyous occasion. A baby shower is a great way to surround the parents-to-be with loved ones who want to support them. With a little extra attention, you can help guests feel more comfortable by planning a gender-neutral party.