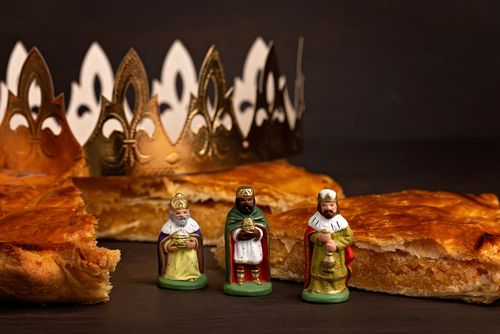 The holiday season seems to start earlier every year, especially for retailers. Anxious to get their wares out before the competition, some stores even start putting out Christmas trees and ornaments in October. By the time Christmas Day rolls around, many who celebrate this particular holiday may be a little relieved that the end is in sight.
For those traditions that celebrate the liturgical year, however, December 25 is just the beginning of Christmas. It starts a 12-day feast that ends on January 6 in Epiphany. For some, this day is celebrated as just another feast day, but you can make it special by throwing a party for the people with whom you worship.
Decorations
One of the easiest parts of planning your Epiphany party is decorating for it. If you've decorated for Christmas, you've got the basic look you need for your event. Just leave your decorations that you have been enjoying the whole holiday season. You may choose to highlight the pieces that specifically relate to this feast:
Ornaments featuring the three kings at the birth of Jesus
Nativity scene
Gift boxes
Wreath on door
Chances are that by this point you will have opened all your presents that were under your tree. Because Epiphany centers on the discovery of the messiah in the manger, you may want to wrap up a few extra boxes to place around your home to represent the gifts that the magi brought with them. You can use them as centerpieces on the serving table or place them under the tree.
Activities
You have a lot of choices for activities for your Epiphany party. You can invite a clergy member to lead in a short liturgy service, or you can read over the liturgy yourself. If there are a lot of children attending, you may consider something more interactive, such as finding and opening presents that each reflect a different part of the story. You can even host a virtual event for times when the people on your guest list are remote or you are trying to limit in-person gatherings.
It's also ok to make your party more general, particularly if you plan on inviting people who do not typically celebrate the holiday. You can serve snack foods and festive drinks, or you can turn it into a dinner party. A potluck in which you serve the main course and ask others to supply sides is especially effective at mirroring the story of bringing offerings to the Christ child.
Invitations
Whom you invite to your Epiphany party depends on what you are planning to do. If you want to engage with the liturgy or pray the rosary during your party, you may consider limiting invitations to those for whom those practices would be meaningful. If your party is more of a general celebration, you may decide to include neighbors and other friends. Your invitation doesn't have to include a full agenda, but it's a good idea to tell guests what to expect. Invitations can be sent via snail mail, or you can send evites to reduce response time.
As with any party, your invitations should be delivered a few weeks in advance so that people can add it to their calendars before they're full. Because this particular time of the year tends to flood delivery services with packages, cards and other mail, you may want to consider adding a week or two to your plan if you are sending your announcements that way. This foresight ensures that your invitation actually arrives to your guests' homes in time for them to make plans.
While online parties may be a good idea at this time, it's never too early to start thinking ahead to future celebrations. No matter how you decide to celebrate Epiphany, doing so as part of a party is a great way to mark this important day of the liturgical year.