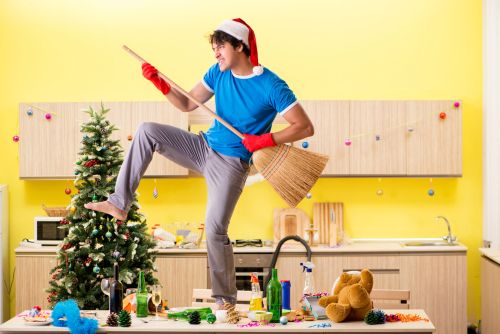 During the holidays, there are a lot of traditions that make the season bright. Eating a big meal around a table full of loved ones, waking up early to excited children on Christmas morning and sharing a batch of hot cocoa and cookies in front of a warm fire are all experiences that bring holiday cheer.
These scenarios are pictures of families and couples making meaningful memories together throughout the holiday season. Even the allegedly lonely single gal home for the season in Christmas movies often has a fiancé she left behind in the big city. For real-life single people who are searching for their special someone or longing for a family, the constant reminders of how they are missing out can be very painful. Just because you're single, though, that doesn't mean your celebrations can't be just as idyllic. Here are four tips for navigating the season with success and maybe even a bit of joy.
1. Acknowledge How You Are Feeling
It can be disheartening to be surrounded by people telling stories about their plans for festivities, knowing that you will likely spend those evenings alone. While you don't need to interject that you don't get to have those experiences every time people share their excitement with you, taking some time to reflect on your feelings about the season is the start of self-care. It may be helpful to keep a journal in which you write down both good things about being single during the holidays but also acknowledge the parts that are more difficult. Consider finding a friend to talk to about it, or schedule an extra session or two with your therapist if you suspect you are going to have a hard time. Giving yourself an outlet for negative emotions that may arise can help you deal with them more effectively.
2. Reach Out to Others
Being a household of one doesn't mean you are forced to do everything alone. Look for community events, and invite some other single friends to go with you. If you want to avoid the crowds, opt for a small dinner party or some other type of celebration at home. Volunteer to help with the extra services and gatherings your church is likely hosting. You can enjoy the holidays with your chosen family even when you don't live in the same home.
3. Make New Traditions
One way to have a happy holiday season as a single person is to revel in it. People who are married or have children often don't have as much input into how they spend the season, but you are a free agent. New traditions can make the time special. Pick out neighborhoods that have particularly spectacular decorations and spend an evening each week walking through a different one. Enjoy hot cocoa and freshly baked cookies as you curl up with a good book. Clean out your closets and donate warm clothing to a homeless shelter. Take advantage of your time being single to do only what makes you happy.
4. Don't Deny Yourself Old Traditions
Even when you find ways to enjoy the holidays alone, that doesn't mean you have to miss out on other things. Cook and enjoy a nice meal, even if you're the only one eating it. Decorate your home to mark the season. Use your journal for nightly reflections, and attend meaningful services. There's no minimum number of participants on most holiday experiences. Don't deny yourself something that could make you happy just because it's not the way you imagined it would be.
Some seasons tend to be harder for single people than others. However, you can find ways to make the holiday special regardless of how many people are (or aren't) a part of it.