The following is a story submitted to us by a young, recently-married man from our home city of Seattle who discovered how easy it was to have a friend get ordained online in order to officiate his wedding ceremony.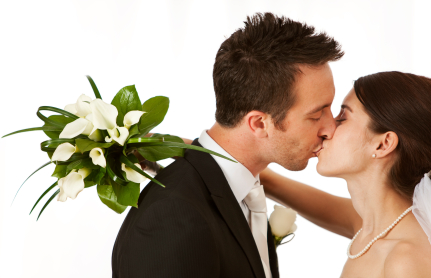 I decided with my fiancée, not long ago, to forgo what is normally accepted as a traditional wedding. We thought that it would be much more personal if, for our wedding ceremony, we had one of our friends officiate our marriage instead of a traditional minister or judge. In order to make sure the process would be legitimate, we decided to see ourselves what it took to get ordained online. After all, getting ordained to be a minister is traditionally an extremely long process. One usually has to take years of seminary school in order to become anything close to a minister, and the ministerial candidate must go through a lengthy and formal approval process in order to actually become ordained.
According to the Wedding Report, a research firm based in Phoenix which generates statistics for the wedding industry, the average amount a couple spends on a wedding officiant such as a priest, pastor or judge, sits at around $228. In comparison, it is far more affordable to get ordained online and buy the requisite materials to successfully file for a marriage license; all told, it only costs around $20-40 to perform a friend or family member's wedding. Given that the average cost of the modern wedding is in excess of $20,000, having the ability to save several hundred dollars on the wedding officiant is a remarkably attractive offer!
To take advantage of this cost savings and to get married by someone we knew and were comfortable with, we had a friend apply for credentials through several online churches, including the Universal Life Church. Some states do not legally recognize wedding officiants who get ordained online, but the vast majority do; 47 US states accept the ULC Ministries's ordination and allow their ministers to perform legally-recognized wedding ceremonies. Many of the supporters of online ordination claim that states who do not allow online ordination (Pennsylvania, Tennessee, and Virginia) do so because of their own prejudice. Municipalities, online ordination advocates believe, should not be able to just pick and choose whatever ordinations they believe should - and should not - "count". Quite a few legal organizations have supported online ordination and have helped to legitimize the process. For instance, several Pennsylvania counties who refused to recognize those ordained online were taken to court by the American Civil Liberties Union in February of 2008.
Becoming ordained to be a minister online is a controversial subject. There are objections from some parties to the fact that a person who can become a minister online can call him or herself "a reverend". Very often, these people simply find it difficult to grasp a church like the Universal Life Church, that is so firmly wired into technology. As a religious organization, the ULC makes a point of operating and communicating in a way that can reach the largest amount of people to maximize the good it is doing in the world, in its quest to spread a universal sense of community. Ministers of the Universal Life Church can and do everything a "traditional" minister can do, including performing weddings, delivering sermons, baptizing babies, solemnizing funerals, and operating their own ministries.
With this is mind, we went online at the Universal Life Church in order to be ordained. The process was simple, requiring us to fill out an online form asking only for our name, e-mail address, and mailing address.
Because it varies from state to state what paperwork needs to be presented to the county clerk when filing for a marriage license,the ULC urges users to check with their local county clerk's office to make sure that their ordination will hold up in their state and, if it does, what forms of ministerial documentation they need to be able to file for a marriage license. Some states even require the wedding officiant to file additional paperwork before the county clerk will allow them to file for a marriage license.
We made sure to check with the King County Clerk's Office to make sure that the state of Washington, where we were to be wed, allowed wedding officiants who get ordained through the ULC to officiate weddings. According to the King County website, those who are allowed to officiate marriages include judges, licensed or ordained ministers, and priests of any religious denomination; Universal Life Church ministers are included in this group of wedding officiants.
It turned out to be quite easy to become ordained online. In fact, it was actually easier than a lot of the tasks filling up our pre-marriage list of things to do. Tens of thousands of couples from around the country have found out just how legitimate - and easy - an option online ordination is in the other 47.